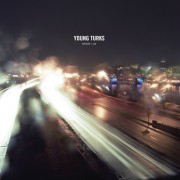 Young Turks
Where I Lie
Animal Style Records
Young Turks' aggro debut Where I lie is NOT a record to calmly listen to over your morning cup of coffee. The Oregon band may have former Broadway Calls bassist Matthew Koenig on lead vocals, but this is not the sugar cube pop punk flavoring of his old band. Young Turks will make you spit out your coffee and smash your mug. This new band musically mingles with the likes of This Is Hell and Terror, where Koenig used to power through chords that swam through the seas of Green Day and Alkaline Trio. Pop's been left behind, as Young Turks are no-nonsense hardcore.
Barely discernible lyrics are screamed with furor atop super-fast metallic guitar riffs and seizure-inducing drum beats, and the end result is a lot more authentic to '80s hardcore than would be expected. "Knife Club" rages hard before riding a slow bridge that slows almost to a stop, and before seguing into "Priceline," a minute's worth of teeth-rattling intensity that manages to squeeze in a sweet little cock rock guitar riff.
There are no breaks between songs, the only moment of breath coming halfway through during the brief "Interlude," which skims the surface for air before diving back under into the second and stronger half of the album. "Revenge" and "Bite Back" both channel hardcore's fiercest anthems, recalling Indecision and Vision of Disorder. They're songs that kick you upside the head, but maintain a foot-tapping groove, if one that's a challenge to keep up with.
This feverish debut is 21 minutes of pure calorie burn, with the three-minute "Let Me Sink (Where I Die)" serving as a cool down. The album is not for the faint of heart, but even the most stubborn "old school hardcore" fans may just be surprised at the quality Young Turks have delivered.
Young Turks: http://youngheartsbefreetonight.com
---