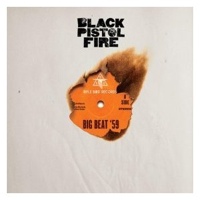 Black Pistol Fire
Big Beat '59
Rifle Bird
It's about time someone put the metal back in rockabilly, and what better place to make the installation but Austin, Texas. In this brave new century of stylistic mashups, I'm surprised I haven't run into Swedish Death Concertos, so I'll blather about this smokin' hot project.
We roar into the opener "Beelzebub." It's all gospel and slap bass and heavy metal devil horns, rolled up into a Big Burrito of Burning Bass. Jesus has beat feet for Oklahoma, and it's not water he's gonna be walking on. An electric buzz permeates the song, and only intensifies in "Stripes or Keys." You need more than fuzz to get this sound; there's a digital delay that sounds like the basement echo room of Sun Records and barely sensible lyrics going forward. "Crows Feet" just barely touches the ground, "Busted and Blue" just hangs on the floor boards, and "Drop The Needle" has you walking a mile in high heels.
With its radical down-home sound and a nearly Glitch-a-Billy approach to recording, this is good old time music for a generation yet to be conceived. Get to work; they'll love you for it when your hair turns gray.
Black Pistol Fire: http://blackpistolfire.com
---