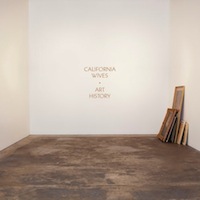 California Wives
Art History
Vagrant
Always read band bios; they are full of interesting stuff if you just take the time to do this minimal piece of research. For instance, California Wives' lead singer Jayson Kramer left a "promising" career in medicine to take up with an indie rock band. Clearly, he's not a man motivated by the prospect of collecting huge piles of cash, though his group has the clean, promising pop sound that might just possibly get him a guest slot on the Tonight Show.
"Blood Red Youth" opens this online set. The rhythm is kept with a tambourine, an edgy angular melody appears, and then the mellow voice of disappointed yet socially relevant injustice appears. Mr. Kramer's low, urgent voice emphasizes with the unfairness of the situation, Graham Masell emits reverb-heavy guitar chords, and I think I smell the revival of '60s folk music fed through the filter of millennial idealistic re-sampling.
There's more thoughtful lyrics moving forward: the imagery of "Brilliant Houses and Lights" in "Tokyo," Mr. Kramer will "find you out" in "Mary Ann," and we muse upon "when you wake up on your own, don't you know that you're wrong?" in "Los Angeles."
Behind all this intriguing songwriting is a band that sounds like it wants to play metal, but isn't allowed to by a homeowner association rule, so they tone everything down and give a yearning and heartfelt indie experience. Keep an eye on these guys. They were best band of 2011 in Chicago, and they might get promoted to all of Illinois or even the upper Midwest by this time next year.
California Wives: http://californiawives.com
---