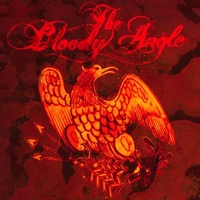 The Bloody Angle
Whatever happened to southern rock? For a while it was under the weather with a bad case of the Indie Flu, but now it's back and sassy as ever. The Bloody Angle are so authentic that they recorded direct to analog tape with no Autotune, edits, or overdubs. Who knew you could still do that today? The result is a consistent album full of story songs, excellent musicianship, and composition that is fresh and exciting without getting artsy or weird.
The title song "Bloody Angle" retells the story of a particularly nasty Civil War battle at Spotsylvania. "Sarah" tosses a baby into the well out of shame. "The Devil's Runnin' Scared" takes us to a tent meeting that doesn't just proselytize but brings the hammer of God's justice down on some sinners, even though their sin wasn't anything any of us haven't done on a Saturday night.
Vocals come from the band's founder, Matt Singleton, and while he doesn't sound exactly like Hank Sr., he hails from the same "rode hard and put away wet" school of country vocals. Behind him we hear lead guitarist Jason Butler. His sound is distinctly electric, ranging from Lynyrd Skynyrd to Molly Hatchet. He pulls off some interesting harmonies with bassist Brian Temples, and since they pinky swear there's no multi tracking, I think they tuned the bass and guitar to the same key to get that warm fuzzy layered effect on strings. Overall these boys strike the right balance between old school pain and twang and modern angst and introspection. I'm very happy to discover this band; it makes up for oh-so-many others.
The Bloody Angle: http://thebloodyangle.com
---