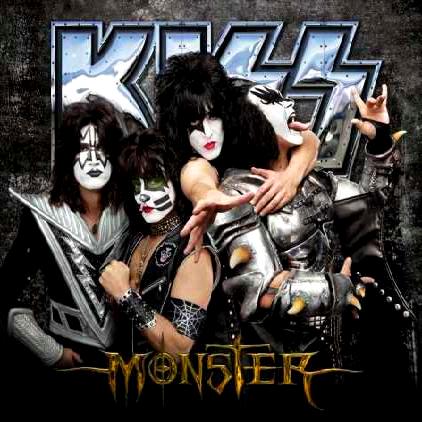 Kiss
Monster
Universal Music Company
Produced by band co-founder/frontman/guitarist Paul Stanley, Monster is stylistically akin to Kiss' previous record, 2009's Sonic Boom – which is to say that it's a mind-numbing collection of uninspired old-school riffs, woven together by endless cock-rock clichés and double entendres.
However, this is certainly nothing new for the "Hottest Band in the Land." From the veiled anal sex references of "Nothin' to Lose" to other such career-spanning nuggets as "Love Gun," "Rocket Ride," "Lick it Up," "Uh! All Night," and "Bang Bang You," perennial member and chief songwriter Stanley and vocalist/bassist Gene Simmons have maintained an uncompromising 40-year commitment to creating compelling and consistently caveman-like content.
But there's something a bit endearing, if not forgivable, about lean and mean up and coming rock stars in their twenties recounting their newfound experiences with fame and females through their songs – since, for the most part, their life experiences up to that point typically haven't reached beyond surviving high school and struggling on their local music scene. However, the notion of embracing or even enduring archaic, ego-driven rock songs about fingering chicks, written by bloated rich dudes in their sixties, is downright depressing.
For example, on "Back to the Stone Age" Simmons declares: Sit on the throne, let 'em kiss the ring. 'Cause I'm a Stone Age man, I'm the king. Not to be outdone by his older partner, Stanley answers back on "Shout Mercy" with the compelling confession: Hang out, put out, get out. That's what we're all about. At the height of their notoriety in 1977, this type of drivel was cool, but in 2012, it's become crass.
However, Stanley seemingly gets (almost) spiritual on "Long Way Down," musing: Look away but you can't pretend. Gonna pray for a way when the end is near. But as with many of the world's all-time great poets, you never quite know for sure if Stanley is talking about God or propositioning a stripper.
In "Take Me Down Below," Simmons recounts a particular liaison: She took my finger, here's the button to press. I raised my flag and she dropped her dress. I'll take you on a cruise you'll never forget. She said, we better move now 'cause I'm already wet. Really, dude? You're a 62-year-old married father of (at least) two. Give it up, Gramps. Groping groupies ain't groovy; it's gross.
But the most compelling testimonial is offered on "Freak" when Stanley proclaims: I'm a freak and I love what I see. I'm a freak and I love being me. Well, duh! But perhaps the lyric should have been: I'm a freak ing millionaire and I love being me.
In sum, Monster is extremely well-produced and the musicianship is impeccable. Even the packaging is quite eye-catching. Unfortunately, the songs are shamefully dopey. Back to the Stone Age indeed.
Kiss: http://kissonline.com
---