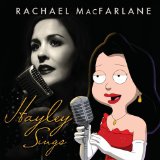 Rachael MacFarlane
Hayley Sings
Concord Records
I think I'm in love. At least, I'm in love with the voice of Rachael MacFarlane, otherwise know in the 3D world as Hayley Smith. I've seen her on Family Guy occasionally, but never thought twice about her. That was my fault; on her first CD, she shows an astonishing talent for cabaret singing, covering Simon and Garfunkel, Eddie Cantor, George Gershwin, and Carol King. All of these songs are backed with gentle, unobtrusive jazz arrangements by Tedd Frith and Matt Catingub, and sound like old bourbon should taste.
I've been to a cabaret or two in my career, and this girl is up there with the best female vocalists I've ever heard. She opens with the old vaudeville standard "Making Whoopee." With her slow and careful vocals, the song opens up and lays bare the emotional center of a woman with a cheating man and her decision to take him back. Other songs are a bit more contemporary; they fall into the baby-boomer music explosion of the 1960s and '70s. There's The Beatles' "All My Loving" and Jim Croce's "Time in a Bottle" and the Beach Boys/Cliff Richards hit "Do You Want to Dance?"
Under her smooth voice these songs lose their original arrangement and morph into a sublime listening experience while the background slides from samba to Vegas show room to late night seductress. This is full metal cheek-to-cheek dancing fodder – just add your own martini and tux and you are good to go.
Rachael MacFarlane: http://www.facebook.com/RachaelMacFarlaneOfficial
---