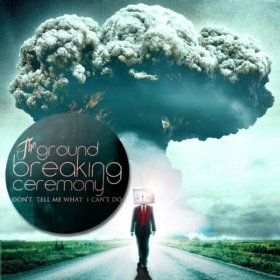 The Groundbreaking Ceremony
Don't Tell Me What I Can't Do
Boys with asymmetrical haircuts and puppy dog eyes, who smell like the Warped Tour and want to do something ironic with their girlfriends, like knit a ski cap or stitch a size out of their jeans (to make them even tighter, of course) are what I see when I hear The Groundbreaking Ceremony's Don't Tell Me What I Can't Do EP.
Maybe the Pennsylvania pop punk band has deeper layers, but if it sounds like another New Found Glory adaptation, then it probably is… an adaptation without the well-crafted, hard-to-resist pop punk choruses that allow a band like NFG to get away with straying into the land of emo.
This isn't to say that "Eleventh and Bleeker" doesn't still sink its gentle teeth into me, because it does. Even the saturated sap of "Don't Be a Dream" has an addictive rhythm that I want to hate (mostly because of the mewling vocals), but I can't quite dismiss. As it turns out, though, two songs are my limit for this band. After that, what little attention of mine they had, they lose.
"The Burden of Goodbye" brings me back, for just a sec, as I fall victim to the rolling drum lines, but this brief change of heart soon falls apart as the song breaks down into enough emo to make 2005 blush.
The acoustic ballad "Sometimes It's Not Enough" closes the EP on an earnest, but trying waaaay too hard, note.
The Groundbreaking Ceremony: http://thegroundbreakingceremony.com
---