Eddie Vedder
with Glen Hansard
Bob Carr Performing Arts Centre, Orlando, FL • November 27, 2012
Jen Cray
You could liken Eddie Vedder's solo shows to VH1's Storytellers, or to MTV's Unplugged, but what it really feels like is being invited into the Pearl Jam frontman's home for a casual recital in front of his fireplace. There's drinking, conversation, laughter, and tears, and all the while your host Eddie has a guitar or a ukulele in his arms and he's plucking away at whatever comes to mind.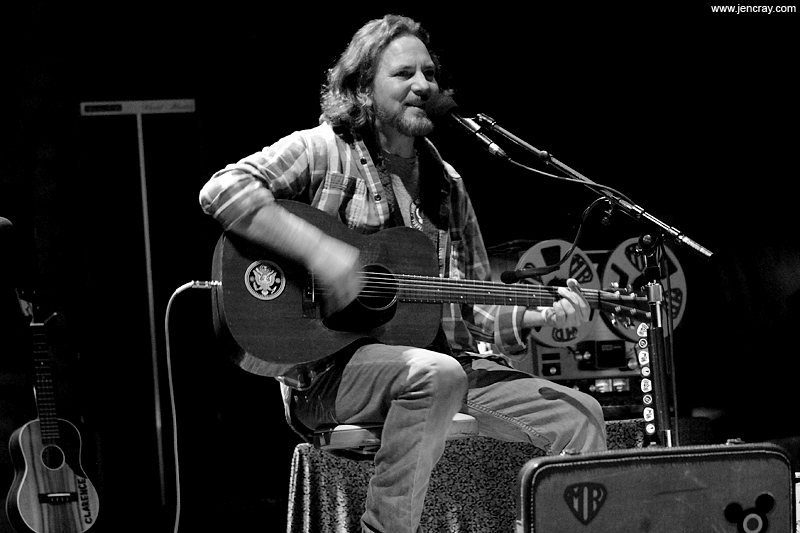 Not a bad way to spend the evening, right? Orlando was treated to not one, but two nights of these close encounters, six months after the tour was originally scheduled (postponed when Vedder suffered nerve damage to his right arm due to a back injury). Pearl Jam doesn't often come to these parts, as Eddie had just been informed, "Someone just told me that we've only ever played around here three times… that doesn't seem right… If you guys are good tonight, I'll report back to the guys about it." Making up for lost time, the two-hour concert was chock full of songs from the vast Pearl Jam catalog – including one that he doesn't normally play (more on that later).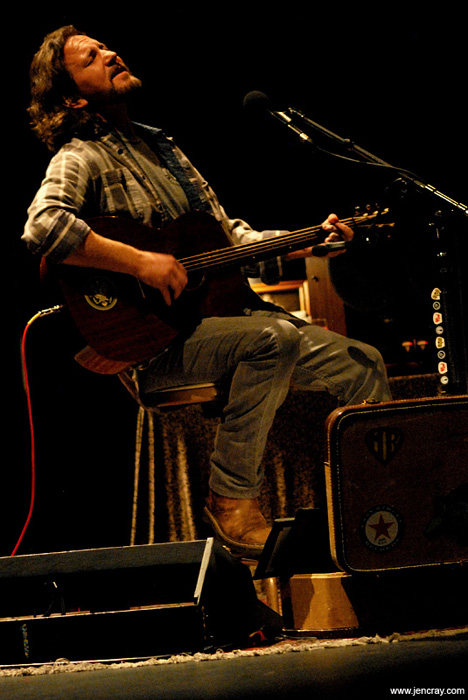 It all started with "Elderly Woman Behind the Counter in a Small Town." Lights sprayed atop 2,500 fans who sang along in answer to the line, "I just want to scream, Hello," and who had abandoned their cushy seats as soon as Eddie stepped onto the stage.
"Take advantage of those seats… get comfortable. We're gonna be here for while," he suggested.
Sitting in the company of only a variety of his instruments – one for every whim that could strike him – he worked stories into the in-betweens of the 30+ songs. Some were funny: he talked of playing The Edge (a great Orlando club that closed its doors in 1996) and getting manhandled by a "steroid freak" security guard who didn't realize that he was in the band. Others were deeply personal: an explanation of how discovering the joyous sound a ukulele produces saved him from a very dark (suicidal dark) time in his life was shocking in its intimacy… and that joyous sound was further proven true during his cover of Wayne Cochran's "Last Kiss" (perhaps the most depressing song ever written!) that was bouncy enough to have us shaking our hips.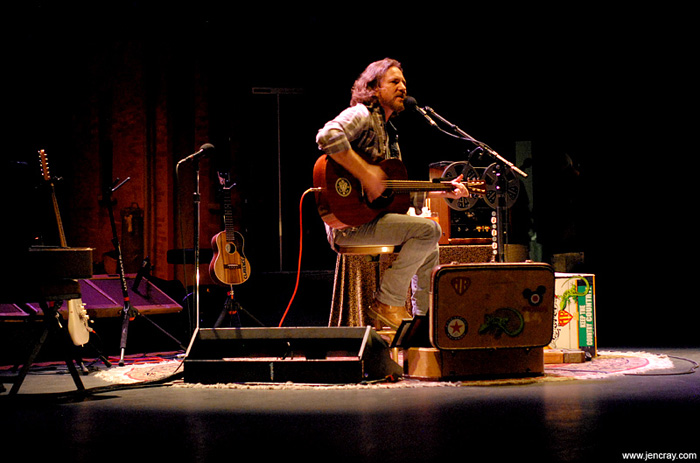 He told an adorable story about hearing his daughter sing "Hollaback Girl" from her car seat, and then proceeded to sing an octave higher to mimic Gwen Stefani: "It's my shit/ It's my shit."
"It's worth having kids even just for those moments," he laughed. "Get rid of the condom and unleash the beast!"
As captivating as his stories were, the song choices were what made the evening transcendent. Of the Pearl Jam selections, "Wishlist," "Better Man," "Porch," and "Just Breathe" all produced chills and thrills, but it was "Black" that shot a fiery arrow straight through our collective hearts.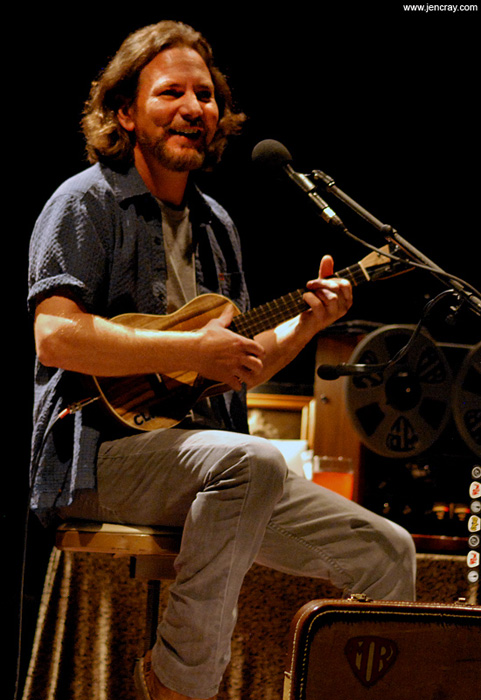 "I'm so happy right now, Eddie!" as the woman sitting next to me screamed out.
Joined onstage by his friend (and Cincinatti Reds pitcher) Bronson Arroyo, who was in the audience, Eddie built up our anticipation by explaining that he doesn't normally play this song, but that he did it recently when a woman offered to donate $5,000 to the Heal EB charity if he played it. "Tonight I thought I'd play it again, for free." A fake campfire was lit up onstage, and Eddie's voice bled with the heartbreak that this classic off of Ten compels. Where other songs in the set were sometimes cut a little short to allow for time, this one was extended for an extra bridge of audience sing-along.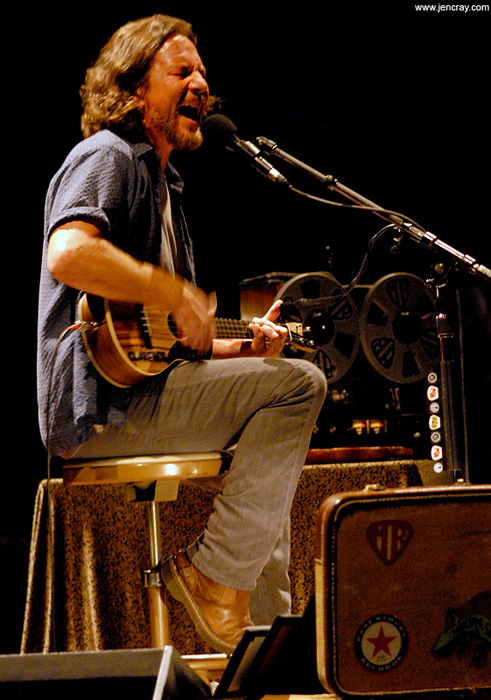 Opener Glen Hansard teamed up with Eddie on a number of songs, including an entirely unplugged (no mics, no PA, nothing!) version of The Everly Brothers' "Sleepless Nights" that, miraculously, even shut up the disruptive drunks in the audience (whose outbursts were always quickly lassoed by Vedder and his witty and comical comebacks). The pair also did the Oscar-winning "Falling Slowly," the song Hansard made famous as The Swell Season in the film Once, with Eddie's deep vocals filling in for Markéta Irglová's parts.
"You've Got to Hide Your Love Away" (The Beatles), "Crazy Mary" (Victoria Williams), "All Along the Watchtower" (Bob Dylan), and "Good Woman" (Cat Power) were just a few more gems that gave more sparkle to a night that shined on Vedder's 22 years of songwriting.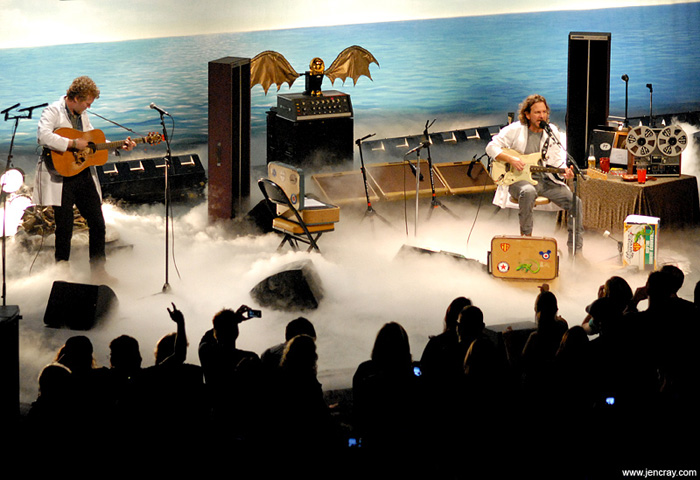 After two encores and a standing ovation that didn't want to let up, a simple and beautiful "Dream a Little Dream" (The Mamas & the Papas) was gifted before one final wave and bow.
"I'll see you all again, real soon," he promised.
Hey, Pearl Jam, take note: Orlando loved, appreciated, and will never forget the Eddie Vedder solo show, but we're still jonesing for the full band, plugged-in set. See you real soon, we hope.
Gallery of live shots from this show: Eddie Vedder.
Eddie Vedder: http://eddievedder.com ◼
---