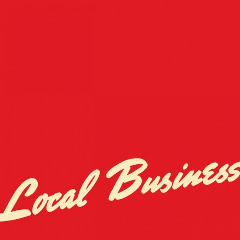 Titus Andronicus
Local Business
XL Recordings
Titus Andronicus write long songs, with even longer titles, that have a punk intonation and an indie rock bent. The New Jersey band, who named themselves after William Shakespeare's goriest play (the Bard's attempt to please the masses), sound like Against Me in one breath, The Clash in the next, and even a bit like Elvis Costello, at times.
Local Business, their third album, showcases the addled brain of a band that counterbalances deep real life lyrics about the disillusionment of growing up in 21st Century America ("Ecce Homo" and "Still Life with Hot Deuce on Silver Platter"), eating disorders ("My Eating Disorder"), and car crash deaths (the album apex "Upon Viewing Oregon's Landscape With the Flood of Detritus") with a minute-long party-break song whose only words are the gloriously yelled "Food Fight!"
A pair of unassuming songs nail down the second half of the album and are the two with, perhaps, the best chance for longevity. "In a Big City" feels like it was written far from the glitter and life of a metropolis. It's got a down-by-the-river groove and verses that feel like they should be chanted from the guys all the way back at the bar. If that song is about growing up determined to move on and move up in the world, then the next song is about feeling disappointed once those dreams start coming true. "In a Small Body," even with the crass line your dick's too short to fuck the world, is a naked and tender coming of age song that's chest deep in angst.
Titus Andronicus may just be another "drop in a deluge of hipsters," as singer Patrick Stickles reminds us in "In a Big City," but this release should set them apart from the many, many, many other indie/punk bands they must swim through to find breath.
Titus Andronicus: http://www.titusandronicus.net
---