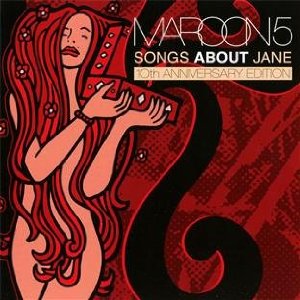 Maroon 5
Songs About Jane (10th Anniversary Edition)
Columbia Records
Maroon 5 is one of those groups that I either love or hate, depending on which song I hear. When I first heard their first single, "Harder to Breathe," a decade ago, I loved them. It was funky. (Sorry for the white boy terminology.) It friggin' rocked. Then I heard "This Love." Not as great, but still pretty decent. Their next single would suck the life out of me. "She Will Be Loved" sounded like something the Backstreet Boys (still sort of relevant at the time) would sing. I hated it with a passion. And it took away a lot of the enthusiasm I had for the band initially.
Ten years later, I decided to take a second look at their debut album, Songs About Jane, recently reissued with a bunch of bonus tracks. In short, I'm so glad I did. While my opinions on those three songs have not changed, my opinion of the band has. Deep album cuts like "Shiver" take everything that makes "Harder to Breathe" fantastic, make it (for lack of a better term) harder, add a killer guitar solo by James Valentine, and still keep that deep, distinct beat that will keep the woofers rumbling.
The 10th Anniversary Edition includes demos of the entire album which gives an interesting perspective into how far the songs blossomed from beginning to end. The demos are more for completists and Maroon 5 fanatics, but if this is an album you were looking to purchase anyway, you might as well spend the couple of extra bucks and get another album's worth of music.
Songs About Jane has aged quite nicely, like a fine wine or Vera Wang. This is a rare radio-ready pop record that sounds like it could have been released last week, two years ago, or a decade ago. It really is timeless. Whether Maroon 5 meant it or not, this re-release cements them as a group that is following the Platinum-record-lined road to the Hall of Fame.
Maroon 5: http://maroon5.com
---