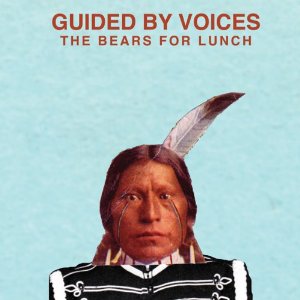 Guided by Voices
The Bears for Lunch
Even now, 19 years after Guided by Voices' breakthrough Bee Thousand, it still seems de rigueur for any review of a Robert Pollard-associated project to make some mention of his staggering prolificacy, perhaps because it grows more staggering by the year. Whereas the impetus and output of most musicians naturally tends to relax with age, Pollard's rate of production has sped up, his rock 'n' roll edge honed ever sharper. Characteristically, then, it wasn't enough for him simply to reconvene the band's classic '93-'96 lineup – that is, Pollard himself, along with guitarists Tobin Sprout and Mitch Mitchell, bassist Greg Demos, and drummer Kevin Fennell – in 2010, six years after he said GbV had fully run its course. Just two years later, once Pollard had gotten another four solo LPs off his chest, the reformed GbV went on to release three reassuringly spry full-lengths over an 11-month span. And that's in addition to two more Pollard solo albums, Mouseman Cloud and Jack Sells the Cow, in the same year.
With a fourth post-reunion GbV album already in the pipeline for 2013, it's a good time to hit the brakes and linger over The Bears for Lunch, the band's third LP of the year just past. The record has more of a mid-fi aesthetic than the lo-fi of its two immediate predecessors. That's evident from the get-go with "King Arthur the Red," the only GbV album opener of 2012 not to feature amp hum. It's clean (almost a worrying Do the Collapse [1999] kind of clean), vibrant, hook-heavy, with some psychedelia-inspired guitar heroics. The machismo quickly falls away, but the psychedelia remains for "The Corners are Glowing," the first of four Tobin Sprout-penned tracks.
Meditative, cello-backed, "The Corners are Glowing" makes clear the essential counterpoint that Sprout provides to any incarnation of GbV in which he features. That isn't to say that Pollard is incapable of tenderness and introspection, of course – all one needs to do here is point to "The Military School Dance Dismissal," on which Pollard's double-tracked vocals rattle off strangely moving but typically stream-of-consciousness laments over a forlorn electric piano. But even at his most vulnerable, Pollard can't conceal a strut and a swagger that are all but absent in his fellow songwriter's catalogue, up to and including hard-rocking numbers like "Seven and Nine" from Sprout's short-lived Eyesinweasel project. Maybe the crucial distinction simply comes down to Sprout's mellow falsetto. (Then again, maybe not. Even on "The Military School Dance Dismissal," Pollard insists on dropping a "Screw you!") Whatever the case, The Bears for Lunch would be a far weaker album were it not for contributions like Sprout's daydreamy "Waving at Airplanes" (the last word of which he quaintly breaks into three Beatles-esque syllables: "aer-o-planes") and the bright, propulsive "Skin to Skin Combat." The most unremarkable Sprout number, an acoustic ballad called "Waking up the Stars," seems like a delight after Pollard's tediously tuneless "Tree Fly Jet."
There are more striking juxtapositions among the tracks from Pollard's own hand. "Dome Rust" is brief, halting, with the muted vocals and tinny twang reminiscent of the early GbV of Devil Between My Toes (1987). That's followed by "Finger Gang," a tight, polished, powerhouse that begins unassumingly enough and explodes into punk fury ("They put the finger on YOU!"). Those both stand in contrast to something like "Have a Jug," a minute-long acoustic ditty let down by limp rhymes (history/mystery, mug/jug, and yet it manages to burrow into your brain in spite of itself), or "She Lives in an Airport," the album's first single and a shoot on the "I Am a Scientist" branch of Pollard's songwriting. And then there's a track like "White Flag," which might just as well be from the Under the Bushes Under the Stars (1996) sessions; its bass line is something to savor (the one-sheet nails it as "New Order-ish").
It's precisely this grab-bag aspect that makes it clear why the return of the classic lineup was greeted with such enthusiasm, and why the recent trio of albums culminating in The Bears for Lunch has seemed more inspired than the three that GbV released between leaving TVT in 2002 and breaking up in 2004. Although it lacks anything as sonically fresh as, say, "Tyson's High School" or Sprout's "Waves" from the two previous LPs, in terms of overall quality, Bears is the most consistently high of GbV's post-reunion output. And given Pollard's pace, it won't take long at all to know how successful the band has been in sustaining that.
Guided by Voices: http://gbv.com
---