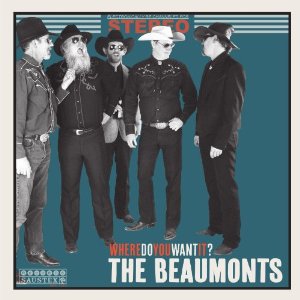 The Beaumonts
Where Do You Want It?
Sauxtex Records
Country music, more than any other genre, lends itself to parody. From the Spike Jones-inspired Homer and Jethro to the Austin Lounge Lizards or Pinkard & Bowden, there's something about the plaintive themes and homespun wisdom of country music that seems ripe for satire. Like the old joke goes, what do you get when you play a country record backwards? You get your truck back, you get your trailer back, etc. Har har indeed. Pretty tame stuff, all in all.
Then you have The Beaumonts.
I like dancin' around in my cowboy clothes/ I like gettin' high/ I like to snort cocaine right up my nose/ I like gettin' high.
So begins "I Like Drinkin'," the lead-off cut on Where Do You Want It?, the second release from the Lubbock, Texas non-PC wiseasses. It sets the stage for this eight-cut record, which manages to be sacrilegious with "(If You Don't) Love The Lord" you're fuckin' fucked, misogynistic with "The Meaning of Love," and completely disrespectful to the elders in "Toby Keith (Is the Ugliest Woman That I've Ever Seen)." This is rowdy stuff, expertly played and as obnoxious (and funny) as those Blowfly and Redd Foxx records of the '60s. I'm sure the players here could produce a straight-up, cry in your beer country record… but where's the fun in that? Nah, The Beaumonts have a higher calling… namely, getting juiced and speaking their minds.
God love 'em!
The Beaumonts: http://thebeaumontstx.com
---