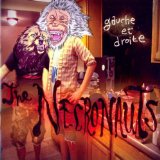 The Necronauts
Gauche et Droite
High School Football Records / Black Cactus Records
It's punk, and a there's a heck of a collection of it here: two CDs with 40 cuts and a big fat lyrics book. This band has been plugging away for the past decade in Mesa, Arizona. Their sound is pleasantly fuzzy and energetic, their lyrics clever and accessible. And by "accessible," I mean you can hear what Billy Goodman is singing without the cheat book.
Once you're though the little instrumental ear opener, there's a really cool song: "Sounds Good to Me '83." The guys sing "It was punk rock and now it's jock rock." True enough, punk has moved mainstream to the point where the boneheads on the varsity team listen to it and the little misfit kids have been driven off to Goth or dubstep or whatever we hide out behind today. "Skateboarding Hurts" is another nice bouncy mash-fest. It alludes to these Goths and how, occasionally, they are willing to make out with the punks. (Just be careful of the pointy fashion accessories.)
Both discs are riddled with gems like these, and the CDs are printed to let the silver layer glow through the eyeballs of the band members' portraits. It looks like their eyes are following you – how creepy is that? Its punk creepy, that's how creepy.
Necronauts: http://neckcrowknots.com • High School Football Records: http://highschoolfootballrecords.com
---