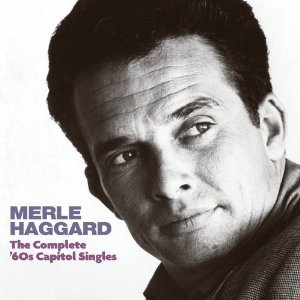 Merle Haggard
The Complete '60s Capitol Singles
Omnivore Recordings
As near a perfect country artist that has ever lived, Merle Haggard has been writing songs for "the working man" since he was released from San Quentin in the early 1960s. Haggard can do it all: brilliant songwriter, great live act, a crackerjack fiddle player, and he's done it for so long that he's more an institution than a mere performer. And it all started with these early singles on Capitol.
Haggard is known for the "Bakersfield sound," a rough version of country played in the honky-tonks of California. He and his band, "The Strangers," forged the kind of down to earth country music that is best enjoyed sitting on a barstool drinking a beer. It sounds even better when you're heartbroken, a fact not lost on Haggard, who captured the utter despair of being alone about as good as anyone with songs such as "I'm Gonna Break Every Heart I Can" or "The Bottle Let Me Down," which become one of Gram Parson's most popular numbers. The Strangers, with Ralph Moody on pedal steel, Roy Nichols or James Burton on guitar, and Haggard's wife, Bonnie Owens (the ex-Mrs. Buck Owens) on harmony vocals recorded so many great songs, and each one is a classic. His first hit, "Swinging Doors," set the pattern, and once he got into a groove, mini-masterpieces flowed one after the other.
You can't call yourself a country singer without doing a few Haggard songs. From the Grateful Dead's version of "Mama Tried" to the heart stopping "You Don't Have Very Far To Go" by Candi Staton on her 2006 album His Hands, nobody sounds bad singing one of his hits, but no one captures the honesty and passion of the originals, 28 of which are collected on The Complete '60s Capitol Singles. From "Branded Man" to the counter-counter culture hit "Okie From Muskogee" and the classic "Workin' Man Blues," Merle Haggard helped create a sound and a stance that has never been equaled. Openly confessional but never tawdry, laid back but always moving, Haggard and the Bakersfield sound seem to define country music for many- myself included. It really don't get no better than this.
Omnivore Recordings: http://omnivorerecordings.com
---