Miles Davis Live at Montreux 1991
starring Miles Davis, Quincy Jones
Eagle Rock Entertainment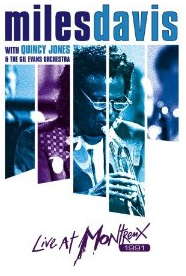 Miles Davis once snapped at an elderly dowager at some New York party who asked who he was: "I reinvented music four or five times… who the hell are you?" He wasn't blowing smoke. From his beginnings playing bebop in New York clubs to his groundbreaking fusion work and beyond, Miles Davis was a relentless pioneer, consumed with curiosity, unwilling to play what he played yesterday – or 40 years before.
So it took two visits from Montreux Jazz Festival founder Claude Nobs and producer Quincy Jones before he agreed to perform a concert of his work with famed arranger Gil Evans. In the liner notes to the CD of this concert, Leonard Feather relates a conversation between Quincy Jones and Miles Davis, once Miles agreed to do the show. Miles said, "This stuff's gonna be expensive." Jones replied, "What do you mean? The cost of the band can't be that much." "It ain't that, man', Miles said."It's just that this shit is hard to play."
Miles Davis and Gil Evans recorded throughout Davis's career, beginning with Birth of the Cool in 1949, but it is the trio of albums the pair created starting in the late '50s, referred to as "the trilogy" among fans, that shows the reach of the pair's musical genius. Starting with Miles Ahead in 1957, Porgy and Bess two years later, and 1960's Sketches of Spain, these large band arrangements broke new ground. Jazz orchestras were, of course, nothing new from Duke Ellington and Count Basie's large groups, but Evans approached arranging differently. His use of non-traditional instrumentation (bassoons and oboes, among others), a fresh take on harmonizing, and his ability to give Miles space to float among the assembled players were something new in jazz. While many have taken other aspects of Miles' music further in various fashions, the work with Evans has remained relatively free of later adaptations, sounding as startling and new as it must have when released.
This concert, coming three months before Miles died, certainly proves the material's difficulty. These aren't standards that Miles knew backwards and forwards and could play on auto-pilot. Surrounded by two orchestras (Jones recruited both the Gil Evans Orchestra and the George Gruntz Band), Kenny Garrett on saxophone, and Wallace Roney on trumpet, Miles had his work cut out for him. Resplendent in a garish neon jacket (it's the '90s, after all, but he really looks like a member of Prince's band), the 65 year old gives a lesson in sublime jazz. Opening with "Boplicity" from Birth of the Cool, Miles might perspire, but he ain't sweatin'. Up-tempo bop is difficult for a young player, much less someone who is looking at the end of life, but Davis is just getting started.
Next is a Miles Ahead medley, with "Maids of Cadiz" and "Blues For Pablo" sounding particularly sweet, followed by selections from Porgy and Bess and "The Pan Piper" and "Solea" from Sketches of Spain. By the end all the musicians, and Quincy Jones conducting the orchestra, are dripping with sweat. The normally cavernous Montreux stage is cramped with all the players. Miles has only a few feet in which to move, so he uses his red trumpet to dance, and dance it does. Filmed in HD, the concert looks flawless, and when the last note is played, you can be excused if you jump to your feet as the crowd did in 1991 and cheer Miles wildly. Because even at the end, Miles Davis was incomparable.
---