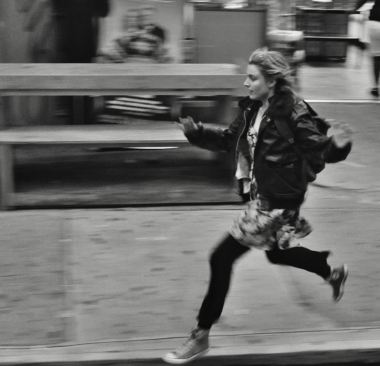 Frances Ha
directed by Noah Baumbach
starring Greta Gerwig, Mickey Sumner, Adam Driver
IFC Films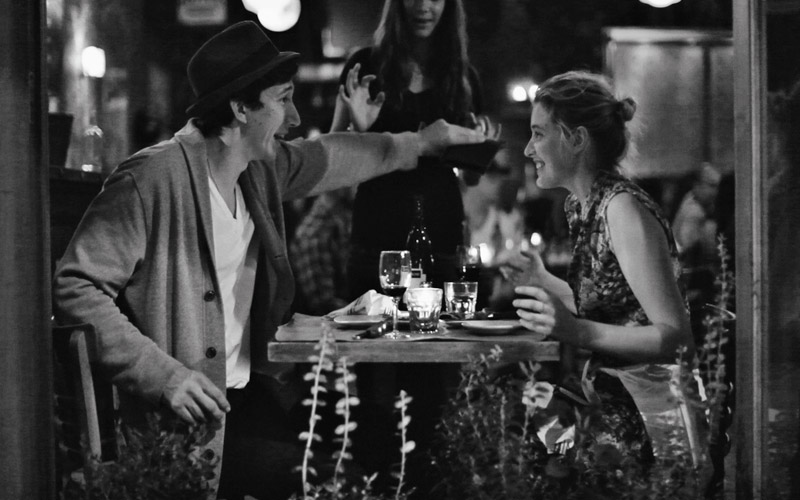 Frances Ha is the latest what does it all mean? film from Noah Baumbach (Greenberg, The Squid and the Whale). He again works with mumblecore vet Greta Gerwig (whom he worked previously on Greenberg), who co-wrote the screenplay. The film marks a stylistic departure for Baumbach, whose previous films have not been as richly textured or as boldly confrontational.
Told in chapters, the film seems as free-spirited as its main character. Filmed in digital monochrome, it is an homage to the New Wave films of Truffaut in style and texture.
At the center of the film is Frances (Greta Gerwig), a 27-year-old apprentice dancer whose life is one big mess of uncertainty. Frances is a maelstrom of broken dreams and aspirations who never ceases to hold out hope.
She's restless, poor and flighty. She's also amazingly tired from the frustrations of living in New York City. Her lifestyle has her always on the go, but somehow she is stalled professionally and emotionally. The audience knows where Frances needs to be, and deep down inside she does, too, but she is unwilling to take that long, emotional road laden with compromise, change, growth, and work.
Frances has a hard time with relationships and people. Luckily she has her best friend and roommate Sophie (played with a Ghost World-esque charm by Mickey Sumner) to keep her in good spirits. Together the duo has all the clichéd series mishaps and misadventures that best friend in New York have. Sophie is Frances's anchor and she is almost tragically paralyzed without her. This is most evident when Sophie moves out, leaving an emotionally unhinged Frances on her own.
Sophie has her own batch of problems that seamlessly coalesce with Frances's, resulting in a tight bond between the two that makes them inseparable. As the two friends grow apart this bond never completely decays.
One of Frances's best attributes is her unbridled optimism. Despite setback after setback, she never relents in slowing down. Gerwig gives her a sense of vulnerable hopefulness that is easy to connect with. Despite all of her fallacies – not having a real apartment, a steady job, boyfriend, or a place in her dance company – Frances makes do the best that she can. Gerwig has dug beneath the layers of slack, loss, and frustration in Frances and given us a character we can root for despite her unwillingness to embrace change.
Watching her stumble and stumble and stumble from failed relationships, career sabotage, and a dreadful trip to Paris gets a bit challenging. However this is where the charm of the film really settles in. Despite all of her melancholy, miserabilism, and lack of motivation, we know Frances is going to be okay.
The final act of the film sees Frances get her stuff together and plunge into her dreams. The weight of the world seems gone and she finally comes into her own by taking everyone's advice and developing her own dance production while holding down a 9-5 job and securing her own apartment. She still lives her life at a frenetic pace, but with purpose.
Frances Ha is an interesting cinematic experience. The collaboration between Baumbach and Gerwig results in a profoundly moving exploration of the themes of loss, failure, redemption, social status, and friendship via the restless, brooding emphasis on gritty realism and strong character development. It's also a splashy monochrome love letter to New York, whose streets serve as the perfect setting for the toils and travails of the characters on screen.
There's also a cameo from Luna (Dean Wareham and Britta Phillips) and a wonderful score from composer Georges Delerue, who worked on many of Truffaut's French New Wave films.
Frances Ha is the very definition of an art house movie. It's daring, brash, and honest without a lot of flash. Gerwig and Sumner are dynamic together, and despite an at times over-wordy script, the duo carry the film, which allows Baumbach to experiment with his acute direction in a way that brings a much needed breath of fresh air to his work. The result is a smartly executed comedic coming of age film about survival, New York, tapping into creative potential and pursuing dreams amidst the mundane hardships of life.
Frances Ha: http://ifcfilms.com/films/frances-ha
---