Emmylou Harris and Rodney Crowell
with Sarah Jarosz
The Downs at Santa Fe • June 15, 2013
James Mann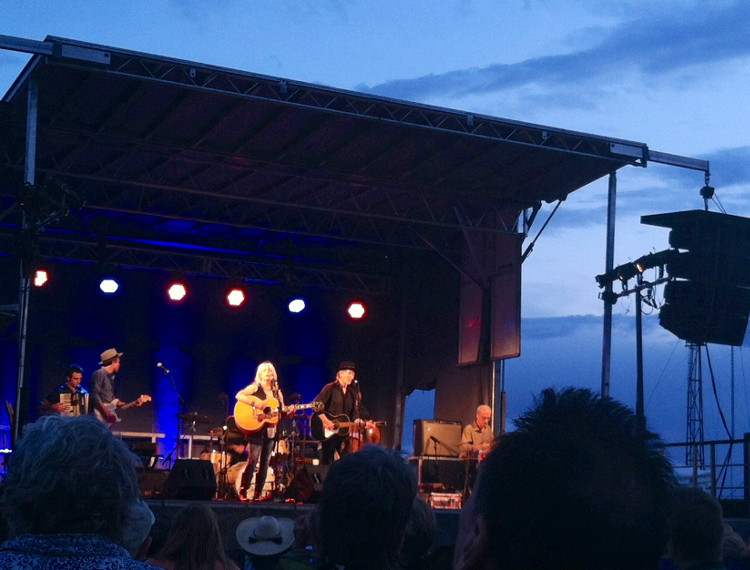 A day after long overdue rains gave some relief from the wildfires raging in northern New Mexico, Emmylou Harris and Rodney Crowell brought their The Old Yellow Moon tour to Santa Fe and threatened to ignite the flames anew. Their two-hour, 20+ song set showcased the duo's long history, both together and apart.
As the sun went down, they opened with "Return of the Grievous Angel," "Wheels," and "Pancho and Lefty." Hearing those well-traveled harmonies on two Gram Parsons songs followed by Townes Van Zandt – if lightning struck at that moment, I dare say we'd have died and gone to country music heaven without regret. Harris and Crowell began performing together in the mid-'70s in Emmylou's Hot Band, and the pair are as comfortable onstage as you'd expect the longtime friends to be. Backed by a stellar band, the night was one hit after another, and they certainly have plenty to share.
And share they did, performing almost all songs as duets, and there isn't a better harmony singer than Emmylou. Crowell numbers such as "Till I Gain Control Again" or "Earthbound" sounded sublime as the two wrapped their voices as one, and "Red Dirt Girl" and "Tulsa Queen" from Harris' vast back catalog have rarely sounded better. The tour is in support of the "album we said we were gonna do 40 years ago," said Harris jokingly, and they performed a mid-set selection of tunes from The Old Yellow Moon including Roger Miller's "Invitation to the Blues" and Crowell's early hit, "Bluebird Wine." Matraca Berg's poignant ballad "Back When We Were Beautiful" was magical, and sounded as if it was written solely for these two legendary voices to sing.
The night saw a Hot Band reunion of sorts, with pedal steel wizard Steve Fishell in tow, but the real surprise was when guitarist Frank Reckard, now a Santa Fe attorney, was called to the stage by Harris. Performing "Ain't Living Long Like This" and "Leaving Louisiana in the Broad Daylight" from the classic Hot Band album Quarter Moon in a Ten-Cent Town, Reckard, along with lead guitarist Jed Hughes, transformed The Downs into a honky-tonk on a Friday night, raising the roof and seemingly having the time of their lives.
The evening was opened by Nashville newcomer Sarah Jarosz, accompanied by cellist Nathaniel Smith and fiddle player Alex Hargreaves, and in their brief set enraptured the crowd with their undefinable mix of country, old-time, and "new-grass," including a rousing rendition of Bob Dylan's "Ring Them Bells." Jarosz was equally tuneful on banjo, mandolin, and guitar, and Emmylou brought her back later on, to add banjo to a beautiful arrangement of "Darlin' Kate," her tribute to friend Kate McGarrigle. It was a touching moment among many that night.
There might be a more perfect way to spend an evening, but listening to Emmylou Harris and Rodney Crowell under the skies of Santa Fe gets my vote, and for the intimate crowd assembled, it was truly an unforgettable event. As they closed the night with a nod to the late George Jones with "One of These Days," there wasn't anywhere better to be.
Emmylou Harris: http://emmylouharris.com
---