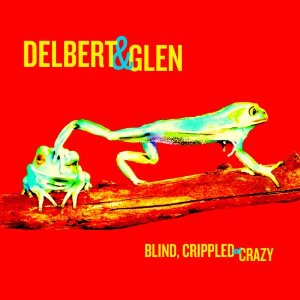 Delbert & Glen
Blind, Crippled and Crazy
New West Records
Delbert McClinton and Glen Clark made a few albums together in the early '70s and then went their separate ways. McClinton became known for his roadhouse roots rock, while Clark went on to play keyboards for such folks as Bonnie Raitt and became known for his songwriting. The two remained friends and performing buddies all along, but this is the first recording they've done in years, and it's a corker!
A little blues, a little rock and roll, the two sound in fine voice after all those years on Blind, Crippled and Crazy. Produced by Gary Nicholson, the pair rolls back the years on such songs as "Been Around a Long Time," "Oughta Know," and "Tell My Mama." Clark's "Just When I Need You the Most" is a heartfelt ode to love, while "Sure Feels Good" is a laid-back look at maturity with a great steel guitar part from James Pennebaker.
Blind, Crippled and Crazy might have been a long time in coming, but when the result is so good, you can forgive Delbert and Glen a bit of time off between records. Just hope the next one comes a bit sooner!
New West Records: http://newwestrecords.com
---