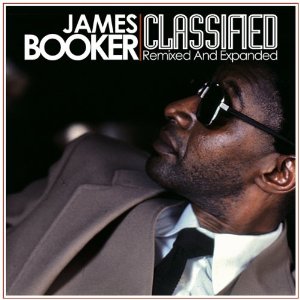 James Booker
Classified: Remixed and Expanded
Rounder Records
In a city renowned for its piano players (Professor Longhair, Mac Rebennack (Dr. John), Allen Toussaint, and the criminally under-heard Henry Butler) New Orleans boasted one man who towered above them all in technique, imagination, and sheer mastery of the keyboard: James Booker. Known as the "Bronze Liberace" or "The Bayou Maharajah," the mysterious and troubled Booker lived a short life – he died of renal failure in the waiting room of New Orleans' Charity Hospital at the age of 43 – and left scant official recordings to remember him by. Classified was one of only two studio albums released during his lifetime, but what he lacked in quantity, he more than made up for in quality.
This expanded version of Classified adds nine cuts to the already dizzying mixture of blues, pop, classical, and R+B of the original. Booker embraced all types of music, and this album shows his unique gifts among all sorts. Opening with the title track, an uptempo New Orleans boogie-woogie that has Booker racing up and down the keys in a joyous rush, sets the stage and gets the heart pumping. It's followed up by the Annie Laurie hit "If You're Lonely," on which Booker's stately piano is joined by the saxophone of Alvin "Red" Tyler in a slow, late night blues and Booker's heartfelt vocals that hit the mark. Next up is "Warsaw Concerto," and Booker sounds completely at home with the classically influenced piece. He was a brilliant sight reader and was always surrounded by sheet music to study, and his style reflects it.
Classified travels from early rock n' roll – "Lawdy Miss Clawdy," "Hound Dog," and Fats Domino's "One for the Highway" – to pop standards such as "Angel Eyes" and "Yes Sir, That's My Baby" and even Roger Miller's "King of the Road," and James Booker played them all with his own astounding touch, elevating even such dross as "Baby Face" to a second-line minor masterpiece. Backed up by Tyler on sax, James Singleton on bass, and drummer Johnny Vidacovich, Booker's Classified gives us a glimpse of the man that Dr. John famously said was "the best black, gay, one-eyed junkie piano genius New Orleans has ever produced." It's a tantalizingly short look at his bewildering talents, but one that will certainly whet your ears for more – just prepare to be amazed.
The talented, but in some ways doomed, Booker is the subject of a new documentary Bayou Maharajah: The Tragic Genius of James Booker. Check it out to learn more about this fascinating wizard of the 88s.
---