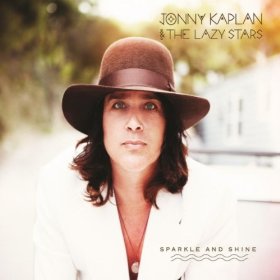 Jonny Kaplan & The Lazy Stars
Sparkle and Shine
Reckless Grace Music
Jonny Kaplan is a busy boy. As a member of the Sin City All-stars, he was part of the backup band for the Gram Parsons tribute concerts featuring Keith Richards and Lucinda Williams, among others. He is the lead singer and guitarist for an L.A. Rolling Stones cover band called Bitch, which features Black Crowes, Foo Fighters, and Wallflowers members as well. Sparkle and Shine is his third album on his own, with the Lazy Stars.
The opening title track reminds you of something from Izzy Stradlin's first album, with its stinging slide guitar bringing to mind the great Rick Richards from the Georgia Satellites. Kaplan's voice has a hint of Graham Parker in it, which he uses to great effect on cuts such as the swampy "Annalee Meets the Scorpion" or the power-pop perfection of "I'll Be Around." Kaplan's sound is part country (of the Ryan Adams/Jason Isbell school), a bit of British rock and roll, and on "The Child is Gone," he shows a fondness for Garcia and the Grateful Dead. The song rolls out in languid guitar lines and subtle pedal steel, never rushing but rather building to an understated, but glorious, close.
"Billings Blues"and "Garage Cleaner" sound like outtakes from the Stones' Exile – in the right hands, there ain't nothing wrong with that – and Kaplan's cover of Charlie Robison's "Alive" finds a great balance between longing and regret. Sparkle and Shine is a gem, and Jonny Kaplan & The Lazy Stars are a great find for fans of everyone from Tom Petty to the Dead. Lazy? I don't think so.
---