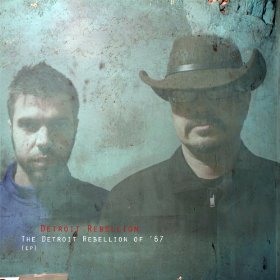 Detroit Rebellion
The Detroit Rebellion of '67 EP
Even a band with "Detroit" in its name won't live there. This hard rocking duo gets its mail in Providence, Rhode Island, but finds its roots in the post Motown funk scene. The music is angry and urgent and channels the MC5 and Kiss with equal fluency.
Of four sweet tracks on this collection, "Dark Lady" explores the male / female power struggle that is independent of any zip code. The socially conscious track is "Detroit Rebellion '67." That's the time when the Summer of Love turned into The Long Hot Summer of Hate, and it looked like America would burst into a full-fledged race war. Things calmed down, but the anger still simmers in this track. "Some Other Time" is a reverb heavy guitar track. Vocals echo as if in a dark alleyway and rats skitter and beg as the politicians wrangle over their own diminishing slice of pie. Last track is the folksy "Speak Your Mind," which wraps up this four-pack of urban angst with the line "You get what you deserve when you speak your mind." True, but depressing, but these two guys channel anger and injustice as well as any hippie anti-war band ever did.
I hope they can do something positive, although saving Detroit itself might be far beyond the power of rock and roll.
---