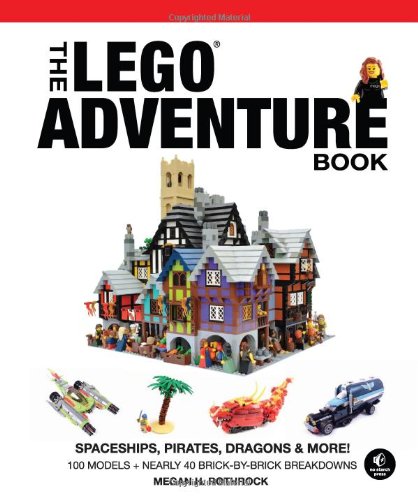 The LEGO Adventure Book, Vol. 2
by Megan Rothrock
No Starch Press
LEGO warriors unite! There's a world of spaceships and dragons you need to model, and don't for get to bring your personal Minifig. You'll never have to grow up in this standardized system of primary colored plastic bricks!
Is it going too far when you replace yourself with a custom plastic Minifig avatar? Not to a diehard LEGO modeler, and that's where the ten contributors to this fun and engaging collection of semi-related and unauthorized LEGO projects have gotten. An amazing confluence of baby boomer nostalgia and obsessive modelers invigorated the product and now innovative new bricks make LEGO an artistic vehicle. You'll see everything recreated from classic film to world monuments to this collection of space ships, pirates and dragons.
With 100 models ranging from tulips in a flower box to dragon trains ("Tragons" in the lingo) you'll find plenty of inspiration here to make your own fantasy worlds, and each object comes with an Ikea-like wordless step by step set of assembly instructions. You'll be buying bricks in bulk by the time you're done, but you would have just blown that money of boring stuff like food and rent anyway. With LEGO you'll have something tangible, like a sound stage complete with green screen or a medieval village with authentic flying cars and palm trees. Plausibly is only required if you really want it.
Rothrock provides amusing dialog as she introduces there guest modelers and their projects. It's occasionally a bit too cute, but it's well intentioned and funny. Perhaps some people take this hobby too seriously but you have to believe in something and assembling multicolored bricks into shiny brave new worlds has a therapeutic side to it. This is a high quilt book printed on thick paper; I see it as a coffee table Art Book for the LEGO enthusiast.
---