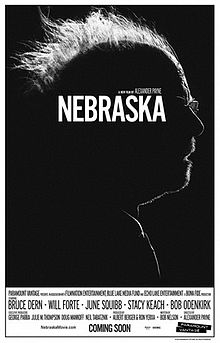 Nebraska
directed by Alexander Payne
starring Bruce Dern, Will Forte, June Squibb, Bob Odenkirk, Stacy Keach
Paramount Vantage
In Alexander Payne's latest film, Nebraska, Bruce Dern makes a stunning return to film as Woody Grant; a crusty, heavy-drinking father who believes his luck has finally began to change. All he needs to do is get to Lincoln, Nebraska to claim the million dollars he has 'won' in Mega Sweepstakes Marketing prize drawing. Grant's life is fraught with an uneasy sense of melancholy and detachment that has left him nearly a stranger to his sons David and Ross and a constant source of irritation to his wife Kate. His family knows the whole thing is a sham and does everything in their power to thwart Woody's efforts to leave his Billings, Montana home. Undaunted Woody repeatedly continues with his plans to head to Nebraska. In an effort to end the situation his easy-going and affable son Dave (Will Forte), who has his own tough luck going on, reluctantly agrees to drive Woody to Lincoln. The road trip gives David a break from his job selling stereos and affords him an opportunity to reconnect with his father. As events unfold it is clear that this is a very bad idea.
The hardest part of the trip is that Woody is not an easy man to like. He's a cantankerous, stubborn, and hardheaded drunk who moves through the world seemingly oblivious to his surroundings. He also has a proclivity for getting himself into trouble. The ensuing road show is an emotional one; filled with frustration, quarreling, sleepless nights, and wandering inebriated stupors that test the dynamics father and son relationships. Serving as driver and caretaker David has the arduous task of reining in Woody when his alcohol get the best of him. Just when you think Nebraska is going to be another relationship on road movie, things get switched up as Woody returns to his former home of Hawthorne, an interesting small town filled with gossipy locals with a very long memory. There Woody gets himself in a real bind when word gets out of his 'winnings.' The local paper wants to write an article about him, old acquaintances turn up seemingly out of the blue, including his old business partner, Ed Pegram (Stacy Keach), who minces no words that he wants a cut of Woody's new money. After the tumult of returning home, Woody's problems don't get any better when they reach Lincoln, where the journey's end is filled with emotion, discovery, and illumination.
Filmed in black and white, Nebraska captures the essence of decaying small town America and the loneliness of life on the road while confronting the problematic traumas of greed, alcoholism, and family. Despite his lengthy absence Bruce Dern remains one of cinema's strongest actors. Working with a great ensemble he has crafted his finest performance with the curmudgeonly and befuddled Woody, who at first appears to be a drunken louse, but as his journey unfolds he reveals him as a damaged and tormented soul who longs for a smidgen of the better life as he fades away in his senior years. Named best actor at Cannes, Dern digs beneath the drudgery, belligerence, and booze to give the performance of his career.
Will Forte's resume is mostly comedic but here Payne goes against the grain and makes him the straight man that underpins Dern's dynamic performance, Forte is the perfect every man with every day problems. He gives David a helping of inner sadness and mixes it with a forlorn restlessness that rounds out the character. While Dern is putting on an acting clinic, June Squibb nearly steals the film. As Woody's frustrated wife Kate, she relieves the dramatic intensity with comedic levity and brash humor. Watching Squibb effortlessly go toe-to-toe with Dern in a delicate balancing act of comedy and tragedy is a delight.
Nebraska is a gorgeously shot film that wrings every bit of emotion from Bob Nelson's screenplay. At its heart is the story of a man looking for hope amidst the shambles of the Northern plains and his son looking to find a connection at a time when his life is tenuous. Payne again returns the themes of escapism, aimlessness, and fulfillment seen in previous his work (The Descendants, Side Ways, About Schmidt). However this time the messages are mores understated and he instead focuses on a literal and metaphysical journey. Nebraska is a fine piece of prize-winning movie-making that relies on outstanding individual performances, amazing cinematography and rich storytelling. It is this perfect symmetry that makes it one of the best films of the year.
---