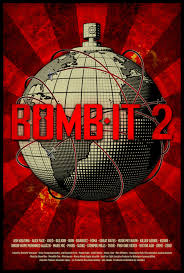 Bomb It 2
directed by Jon Reiss
MVD Visual
I have mixed feelings about graffiti as an art form. Some installations are extremely impressive, particularly when you consider they may have been painted in pitch black with the imminent threat of arrest or violent dispersion. On the other hand, my travels to various world capitols have shown me gorgeous Art Nouveau buildings spattered with incomprehensible symbols and works with a generic disrespect for the artists that were before them. In other words, just because you CAN spray paint a mural in a hip-hop, post-Keith Haring style doesn't mean it needs to be on the front of the National Opera building. But 1960s Soviet-style Brutalist apartment buildings and piss-soaked metro underpasses? You can't do anything to make them look worse, so knock yourself out.
In this full-length documentary on the world-wide graffiti scene, we meet the crème de la crème of the spray-painting scene. Whether they work alone or in groups, they try to change the world one concrete wall at a time. "HK Wall" does its thing beneath the shiny towers of Hong Kong capitalism while "Foner" hides behind a tiger mask and bemoans the hectic pace of dealing with graffiti tourism in Bangkok. "Klone" paints complex and heavily symbolic anti-war pieces in Bethlehem as Andy Ma brags endlessly about his business based on street art and light boxes in Melbourne, Australia. He equates street art with advertising, and the connection is natural. You might not want to see wall art murals on your commute, and you are probably equally unhappy with a pop-up on Amazon or Yahoo, but it is there anyway. "Deal with it" is their attitude, and deal with it we must.
What comes out of this film isn't necessarily an appreciation of color and shading, but of the ability of people to make personal marks on their environments. These range from the Palestinian politics of Bethlehem to the hip-hop coolness of Copenhagen or the laid back vibe of Bangkok art forgers working for charity. Some artists are very open about who they are, while others are heavily masked. All of them agree on a few things, though: graffiti is art for the people and is transient, vibrant, and alive. There's no gallery system, no graffiti art critics or collectors; it either appears on your wall, or it doesn't. Artists comment on their environments; we hear that Bangkok is a "society of perfectly balanced filth and beauty" while Bethlehem needs teams of five or more to stay alive. The Australians see painting as a positive economic development even if it can't be taken home and entombed in a gallery. That is where the beauty of graffiti is – you can paint anything you want, and someone else will evaluate your work. And hopefully it won't be painted over too quickly.
---