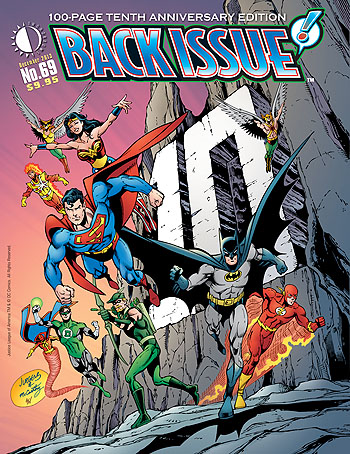 Back Issue #69
TwoMorrows Publishing
Back Issue is to the world of super hero comics as Soap Opera Digest to the televised "Stories" – a meta publication concerned more with the background of its chosen media as opposed to the media itself. This is issue 69 of Back Issue, and for ten years it's covered the authors and illustrators of this evergreen media genre, providing insights and interviews and the general "under of the hood" look at comics. Comic magazines have influenced generations of American artists, writers and fans, they've set standards on how stories are constructed as well as delineating the complex fantasy world rules for their protagonists: some are affected by odd radiation, some by twisted psychological upbringings, and more than a few showcase antagonists specializing in inexplicable vengeance that is weak on why but oh so strong on how. This is a densely written and through publication but at 96 pages I can't comment on everything, but here's a sample of what caught my eye.
The topic of Anniversary Issues opens the magazine, in the day (1930's and 1940's) the comics were a little disrespectful (ask your grandmother) and they didn't always last very long as publishers battled each other for readers and distribution space on the news stand. Today we have the perspective to see the winners and losers, but before Batman or Superman became the icons we know, they were just another voice in the din. When they self-promoted their 25th or 50th issue, it was more a brag to the other publishers than it was fan service, surviving 25 issues was a financial milestone more than an artistic one.
As we flip pages in Back Issue, brilliant color illustrations mix with long text blocks, we see profiles of authors such as Mike W Barr (Batman – the Brave and the Bold) the writing team of Jerry Siegel and Joe Shuster who created Superman and then battled to retain the rights, and Marv Wolman and Keith Pollard who recently collaborated on extensive stories surrounding The Fantastic Four. The stories have a depressingly similar thread: if you create a successful hero and he battles the super villains, you will end up battling the super villains of publishing as they scramble for rights in a competitive yet occasionally profitable universe. Entertainment of any flavor is a tough, brutal power struggle; Back Issue details the battles and casualties.
Naturally, there's' a great collection of anniversary covers, my favorites for no sane reason are "The Care Bears," they don't wear Spandex and they aren't very scary, and the parody "Peter Porker as Spider Ham." Super heroes cartoons can take themselves a bit seriously but this all just fantasy entertainment. There's even a page devoted to Michael Eury who created the Back Issue Magazine with the story of how he got it off the ground. The focus in Back Issue is the DC / Marvel worlds, but they do give nod to the lesser lights and the real interest today is in the steady reincarnation of the Golden and Silver Age heroes that still sell product in the new century. Like All TwoMorrows publications, it is a bit specialized but thoroughly and crisply written and provides a clear perspective on where the cartoon universe came from and where it's heading.
---