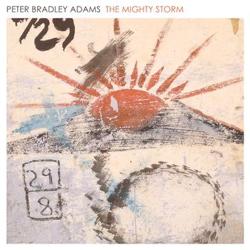 Peter Bradley Adams
The Mighty Storm
I Me Mine
The Mighty Storm is Nashville-based singer songwriter Peter Bradley Adams' fifth solo album and it's his most complete, satisfying record yet.
Adams' songwriting has been of a consistently high standard since he first came to prominence in folk-pop duo Eastmountainsouth. His ability to write beautiful, heart-rending melodies and lyrics is immediately evident on tracks such as the stirring "Hey Believers' and the evocative "Be Still My Heart".
The piano-led "A Way to You Again" is another highlight, while the acoustic "Gypsy Lady" shows that producer Lex Price's decision to record organically as a band in the studio has really paid dividends.
But the two standouts tracks of a consistently superb record are the delicate and uplifting "Around Us" and the atmospheric, hypnotic rhythms of the superb title track. It's a song – and an album – that deserves to take Adams to the next level.
Peter Bradley Adams: http://www.peterbradleyadams.com
---