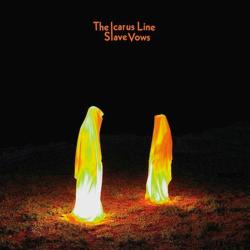 The Icarus Line
Slave Vows
Agitated
The start of 2014 seems like a great time to reflect of some of the best music of 2013 that might have gone undetected on most listeners' radars. First, some caveats and full disclosures: I tend to like my rock music dark, brash, psychedelic, dangerous, and sexy, with a dash of funk and swagger for good measure. Fortunately, Slave Vows, the excellent fifth album from the L.A.'s The Icarus Line, delivers the goods to reaffirm all of these biases.
Slave Vows is a record produced and mostly written by lead singer Joe Cardamone as a reaction to what Cardamone sees as the "Motley Crue charade" modern rock has become. The sonic aesthetic of the album tends to be more analog, organic, and raw. Overdubs are held to a minimum and guitar feedback squeals and squelches find their way to the front of the mix in many songs. With the right pair of headphones, one could probably hear the tubes humming. For those in need of touchstones, think of the bastard child of Primal Scream at their most aggressive, The Stooges at their most funky, and Nick Cave and the Bad Seeds / Grinderman at their most abrasive.
Touchstones aside, The Icarus Line sound like The Icarus Line, which for my money is about the best compliment one can give a band. And although this may be your introduction to the band, those in the know noticed them a while back. For example, their brilliant second album Penance Soiree was featured in the 2005 book 1001 Albums You Must Hear Before You Die.
Recorded in a two-month blast, Slave Vows' eight tracks clock in at just over 45 minutes, with eleven of those minutes devoted to the slow-burning opening track, "Dark Circles". The other seven tracks explode with the band's signature punky-dark-psychedelic-L.A.-ghetto-funk. It sounds live, intimate, and hungry. The work of a band with something to prove: "No Money Music". The work of a band with a more chips than shoulders: "Rat's Ass". The work of a band comfortable in the underground: "Laying Down for the Man". The work of a band in it for the long haul: "Marathon Man". The work of a band that made, for my ears, the best rock album of 2013.
Agitated Records: http://agitatedrecords.com/
---