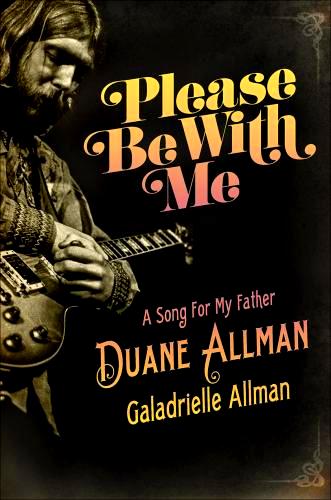 PLEASE BE WITH ME: A Song for My Father, Duane Allman
by Galadrielle Allman
Random House
"I was born into this incredible story." These words I have heard Galadrielle Allman iterate several times now, and more accurate thoughts have never been conveyed. That incredible story, which is centered around the legendary Allman Brothers Band, inspired Ms. Allman's labor of love, Please Be With Me: A Song for My Father, Duane Allman.
An uber-talented life cut too short, Duane died at the tender age of 24 in a tragic motorcycle accident on October 29, 1971. His daughter, Galadrielle, was only two years old. Left behind with fragmented memories gleaned from others' recollections and bits and pieces of memorabilia, Ms. Allman has painstakingly created this story of loss, love, courage, inspiration, and above all, hope. Removing the fame factor and stripping it down to its essence, this is the lovingly woven story of a daughter who yearned to connect with a long-lost ghost. Feeling cheated of her father's love, she walked beyond the precipice to confront that ghost who the world laid claim to but never really knew. Ever lurking in the murky shadow of his death, reaching for a father who was long gone, she stepped out of the shadows to endear herself to the faithful ABB flock who have imbibed her story into the fabric of their own lives. This biography offers some form of closure not only to Ms. Allman, but also to the legion of loyal fans throughout the world. In writing this story to find her father, it seems that she instead found herself. I was emotionally drained at the story's conclusion, so I can only begin to imagine Ms. Allman's state of mind as she penned the final words. Just as Duane's licks sang off his Gibson, Galadrielle's words resonate off her pages in a lyrical homage to her father.
It's noteworthy to keep in mind that Ms. Allman has written this story from the perspective of the oak-solid women in the sordid, spiraling Allman world. Her goal was to impress upon the reader that while the male world was spinning out of control, the women were holding down the fort at the home base, stronger than drugs, adultery and even death. What shines through is the resilience of the women, the sisterhood. The bond that those women formed has been strong and enduring.
Peppered with iconic photos from the likes of Stephen Paley, Twiggs Lyndon and Tom Dowd, the book is available in hard cover, Kindle and audio versions. Ms. Allman describes recording the audio version: "I did read the audio version myself, and it was a huge challenge. It took six 10-hour days in a row and was very intense to read the whole book straight through. I'm proud of the result. I hope you enjoy it!"
---