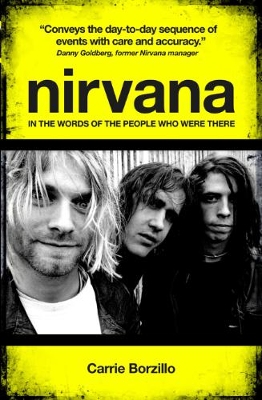 Nirvana: In the Words of the People Who Were There
by Carrie Borzillo
Carlton Books
On April 5, 1994, the world awoke to the shocking news: Kurt Cobain, Nirvana's troubled, tortured front man, had committed suicide. Maybe it was not so shocking after all. People either loved or hated Nirvana – there seemed to be no in between. But one thing was clear: they changed the face of the music scene forever and left an indelible mark.
Comprised of Cobain, co-founding member and bassist, Krist Novoselic and, in its most successful incarnation, drummer Dave Grohl, Nirvana was Seattle's darling and the unquestionable innovator of the grunge movement. Carrie Borzillo's nirvana: In the Words of the People Who Were There, offers a thoroughly comprehensive, chronological timeline that encapsulates how it all came to be. Originally published in 2000, the story has been republished with a new cover, title and design to commemorate the 20-year anniversary of Cobain's untimely demise. The new 5.5 x 8 inch format may not have been the best visual choice, as the microscopic font made reading it a bit challenging. But font size aside, Borzillo hits this one out of the park with her exhaustive research, interviews and insight. Keith Cameron from Sounds magazine, as retold by Borzillo, sums up the band in a nutshell: Nirvana – the band that went from 'nobodies to superstars to f–kups in the space of six months.'
Even from early on, there was an overwhelming sense of an opening act, Nirvana, outshining its headliners (Sonic Youth, Dinosaur Jr., etc). Grohl, who later went on to huge acclaim with his band, Foo Fighters, is endlessly credited with the tighter, cleaner sound that led to Nirvana's success. Yet despite this fact, the consistent undercurrent in Borzillo's biography conveys an ever-growing animosity between Cobain and Grohl, and it also indicates Cobain's displeasure with Pearl Jam. According to varied sources, Cobain would trash Pearl Jam as often as possible, usually more privately than publicly.
As with many music biographies, this one is a bit slow to get into, but about 60 pages along, it starts to pick up and take off. While you listen to these firsthand accounts, you feel the momentum and excitement building as if you were along for the rapid ride. As their meteoric rise to fame progressed, Cobain became more uncomfortable with it and more withdrawn. In October of 1991, as Borzillo recounts, the Seattle-scene musician states I don't know what to think of it. Going from no attention to a whole bunch of attention immediately is pretty overwhelming. Later, in November 1993, as Borzillo reports, New York Times writer Peter Watrous refers to Cobain as the reluctant pop performer and that a stage seems like an odd place to hide but that Cobain hasn't quite come to terms with it. These foreboding statements set the tone for the remainder of Cobain's short, brilliant, tragic life.
As Cobain's disdain and discomfort for the spotlight and people in general increased, he became more detached from reality. Following in the footsteps of many other tormented, musical geniuses before him, Cobain's dependence on drugs ultimately led to his undoing. Even though he pulled the trigger to end his own miserable existence, it seems apparent from reading these insider tidbits that the 27-year-old Cobain could not kick the habit, and ultimately, chose death as the only way out. As added insurance, he also took a likely lethal overdose of heroin. Holding my baby is the best drug in the world. A heartfelt sentiment, yet the Cobains had their daughter, Frances Bean, temporarily taken from their custody due to their purported drug addiction. In May, 1993, Cobain overdosed on heroin, and his wife, Courtney Love, had to inject him with life-saving medication (which she had done before). Courtney Love is confirmed time and again in this bio to be a complete enabler and a junkie cohort, not to mention an all-around negative influence on her husband and on most aspects of the band.
Borzillo has created a real gem with this biography and has tackled the insurmountable task of a true in-depth reporter. After endless research and interviews, the final result of her efforts has produced an accurate, all-encompassing, behind-the-scenes account of how it all went down, right to the very ugly end. Nirvana fans, if you have not read this one, then you need to get your hands on it as soon as possible. Even if you are only a casual admirer of the band, this is a must-read for all music lovers. Signed copies of this book can be purchased at Borzillo's website, with a percentage of sales going to the American Foundation for Suicide Prevention.
---