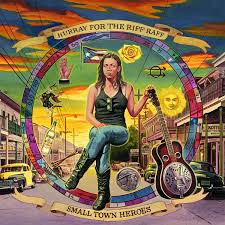 Hurray For The Riff Raff
Small Town Heroes
ATO Records
Whatever took 26 year old Alynda Lee Segarra from the Lower East Side to New Orleans and performing old time country and folk music is probably a tale in itself, but until she pens her memoirs, Small Town Heroes will tell her story. And what a story it is.
Segarra, of Puerto Rican descent, grew up in the Bronx where she was exposed to doo-wop and Motown, and finally heading downtown where she reveled in riot grrl shows, finding a kinship amid the other alienated punks. At 17 she hit the road, eventually finding herself–and her voice–in New Orleans. NOLA is perhaps not known as a hot-spring of country, but Segarra evokes the old-time sounds of the Carter Family with a healthy shot of the blues, all filtered through her wonderful, subtle delivery and warm alto. Opening with "Blue Ridge Mountain", Alynda, backed by fiddler Yosi Perlstein and A.P. Baer on banjo, sounds like an unheard track from Harry Smith's Anthology of American Folk Music, and it's followed by "Crash On The Highway", an easy going lope of a song that Segarra pines for another Monday night at BJ's Bar in New Orleans. She updates Jessie Fuller on "The New SF Bay Blues", a stunner with only her delicate guitar and voice- it doesn't need anything more. It's followed by "The Body Electric", which recalls the Walt Whitman poem as it is dedicated to Damini, who was killed during the 2012 gang rape in Delhi.
Segarra is joined throughout by Sam Doores and Dan Culter of the Deslondes, the New Orleans country soul band, and they lend marvelous backing, but Small Town Heroes is all Alynda Lee Segarra's vision. Born of punk rock, filtered through the enduring grace of folk music, and brought to a boil in the humid nightlife of New Orleans, Hurray For The Riff Raff is a low-key revelation.
---