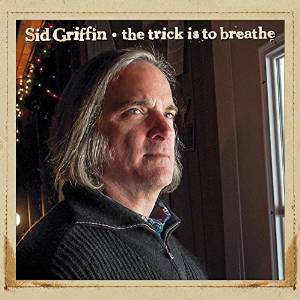 Sid Griffin
The Trick Is To Breathe
Prima
Sid Griffin was Americana before it was cool – in fact, he's one of the pioneers who made it so. From the early '80s with The Long Ryders and the '90s with The Coal Porters, Griffin has championed roots music and helped create alt-country along the way. The Long Ryders mixed garage rock with county – check out their version of Mel Tillis' "Sweet Mental Revenge" on their beloved Native Sons from 1984, and the Coal Porters combined the Byrds with bluegrass, adding fiddles and mandolin along the way. In addition to playing music Griffin is an accomplished author, penning tomes on Gram Parsons, bluegrass guitar, and Bob Dylan.
So what if he's busy and didn't put out a solo record in a decade? The Trick Is To Breathe has all the hallmarks of what makes Sid Griffin a legend: great songwriting, fabulous playing, and his evident love of language. "Ode to Bobbie Gentry" starts off the record, attempting to understand (in Gentry's voice) what made the enigmatic singer just walk away from it all. He follows that up with an homage to Jimmie Rodgers on "Blue Yodel no. 12 & 35" which features the incredible Sierra Hull on mandolin backing up such lines as "The second that you notice as / I blossom like a lotus / While you whither like an I.O.U"… don't think the Carter Brothers ever had lyrics like that.
He revisits his earlier tune "Everywhere" (famously done by Billy Bragg in the '90s), as well as giving The Youngbloods hit "Get Together" an acoustic workout, which features Justin Moses on banjo. Produced by Thomm Jutz (who's manned the boards for Nanci Griffith and Otis Gibbs among others), the record has a relaxed, easy going vibe to it, such as "Front Porch Fandango" or "We've Run Out Of Road". Then you have "Punk Rock Club" which is a poem constructed from comments at a gig: "Why is the singer so dissatisfied?"…it's a hoot. "Who's Got A Broken Heart" is one of Griffin's most sentient and emotive songs, just he, a guitar and Moses on fiddle that is made even more endearing by Griffin's understated vocal.
The entire album has an alluring, magical mood to it, poignant at times, wryly humorous the next, ultimately unmistakably Sid Griffin. Don't stay gone so long next time Sid!
Sid Griffin: http://www.sidgriffin.com
---