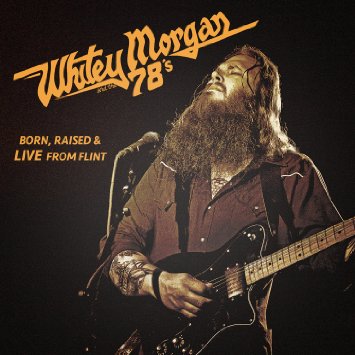 Whitey Morgan and the 78s
Born, Raised & Live From Flint
Bloodshot Records
If there's a jukebox in heaven (and if there ain't, I ain't going…), I guarandamntee you it boasts a few Whitey Morgan cuts. Because this Michigan-based honky-tonker is the real deal, and Born, Raised & Live From Flint proves it in front of a rapturous hometown crowd. Looking like Opie from Sons of Anarchy and wielding a telecaster, Morgan growls and hoots his way thru thirteen cuts, and each one of them kicks some "bro-country" goof right in the nuts.
Beginning with his homage to the once mighty "Buick City" (the 235 acre automobile plant near Flint that closed in 2010), Morgan and the 78s sound tailor-made for a Saturday night at a roadside juke joint, and the crowd yells, shouts requests and sings along, rivaling the band. The group throws down a pure Haggard/Jennings/Owens sound, featuring some great pedal steel from Brett Robinson. The band sounds tight as tick on their original material such as "Cheatin' Again", "Turn Up The Bottle" or "Crazy", and on other peoples songs, such as Dale Watson's "Where Do You Want It" or Johnny Paycheck's "Cocaine Train", they put their own spin on some country classics- and wait till you hear their version of Springsteen's "I'm On Fire".
Yessir, Whitey Morgan and the 78s are the perfect chicken wire, Saturday night honky-tonk band, and when the album finishes with the great Hank Williams number "Mind Your Own Business", well, you'll think you've died and gone to heaven.
And it better have a jukebox, know what I'm sayin'?
---