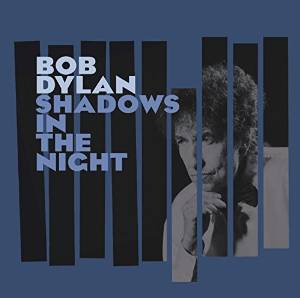 Bob Dylan
Shadows in the Night
Columbia Records
I'm a Sinatra man. I was raised by Frank Sinatra fans- who attended his concert at New York's American Club for their honeymoon. My first piece of published writing was a eulogy upon Frank's death, so yes, I'm a fan. So is Bob Dylan. His new album, Shadows in the Night is a ten-song elegy that has at its heart a sort of eerie desperation. This is not the Sinatra of "Come Fly Away" or "I've Got You Under My Skin" but rather the 3 AM, last call Sinatra of "I'm A Fool to Want You", "What'll I Do" or "Full Moon and Empty Arms". Frank Sinatra could sing a sad song, no doubt, but few of his collections- even Only The Lonely or Where Are You? summon the depths of loneliness that Dylan, along with his five piece band can give.
The record begins with the keening pedal steel of Donnie Herron, and it's this sympathetic union of voice and instrument that gives the record its otherworldly texture. Much has been said about Dylan's vocals on this record, and for good reason. It is the voice of experience, pain and regret, a sort of "cowboy crooning" that is amplified by the steel guitar, unadorned. The rest of Dylan's "Neverending Tour" band is present- Tony Garnier on bass, Stu Kimball on rhythm guitar, Charlie Sexton on lead, and George Receli on drums- and they are stellar at supporting the song, never overshadowing Dylan's soft-spoken voice. "Autumn Leaves", with Herron's steel sounding a lot like a theremin sent from another planet- brings a catch to your voice the first few times you hear it, with the line "But I miss you most of all my darling/When autumn leaves start to fall" so devastating in it's simple resignation.
If this was just a "Dylan Does Sinatra" cover record, it would be good as far as that goes, but he takes it further- and creates both a testament to the American songbook as well as a heart wrenching lament on loneliness and love grown cold served up in numbers that wouldn't sound out of place on the Twin Peaks soundtrack. Yes, I'm a Sinatra man- and a Dylan man as well. The combination of the two on Shadows in the Night is a transcendent masterwork that gives us pause.
---