Against Me
with Creepoid, Worriers
The Beacham; Orlando, FL • February 19, 2015
Jen Cray
What can I say about Against Me that I haven't already said before? I've seen them 13 times in 9 years – they're awesome live, and that's pretty much the size of it. They were always a guaranteed great show, but these days they're a visceral experience. You've got Laura Jane Grace – finally free to be a badass frontwoman, like she always wanted to be. You've got Inge Johannson, a wonderful little firecracker of happy energy on bass. Guitarist James Bowman who – along with Grace – is the longest standing member of the group, has a presence onstage that is quiet, but potent. And the band now has Atom Willard on drums, who is a true pleasure to watch play. So awed was I by his performance, that I had to re-watch Whiplash the next day.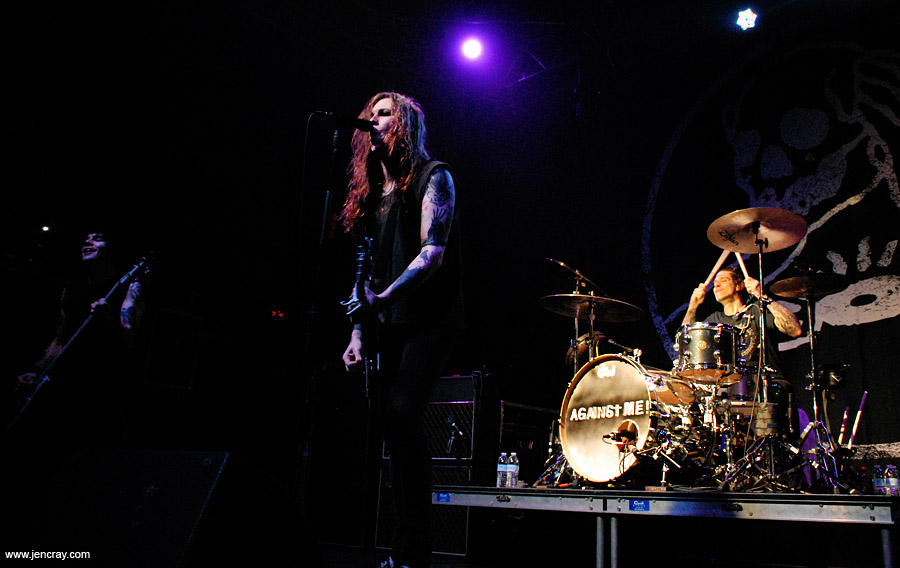 So, yeah, Against Me are just a great band and that is why no matter how often they ride through my town, I will always, always be there. Full confession, I even made the pre-show detour to Park Ave. Cds for a meet and greet/autograph signing with the band. And I'm not usually one to seek out autographs, but am I now the proud owner of a pink vinyl SIGNED copy of Transgender Dysphoria Blues? YES, I AM!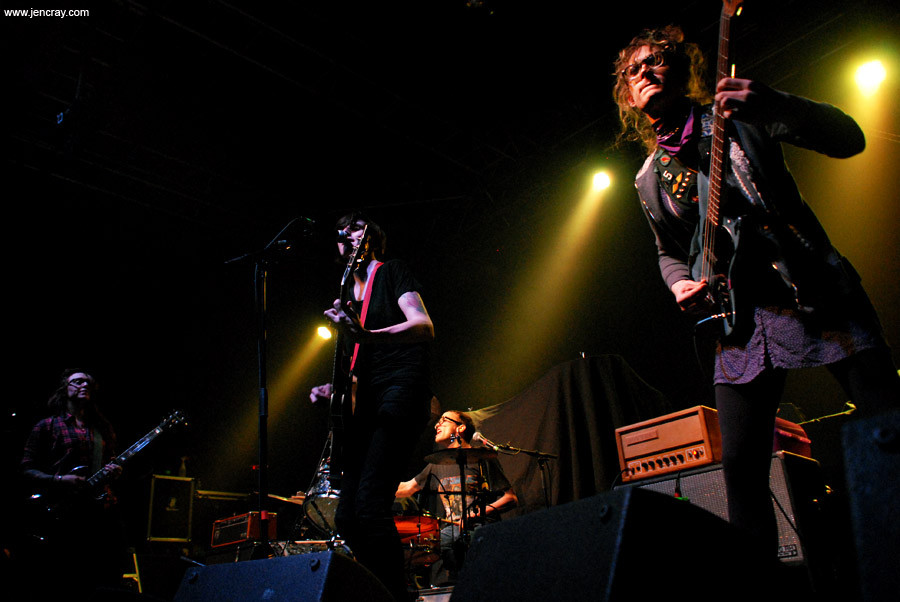 Onward to the show, in which we find ourselves feeling a little disappointed with the first opening band. Worriers are a band from Brooklyn whose pop sound has a smidgen of punk influence (mostly in the guitar sound), headed up by former vocalist for The Measure (SA) Lauren Denitzo and with Mikey Erg (of The Ergs) on drums. A pre-show sampling online had me psyched to check out this band (whose current members include Rachel Rubino on guitar and on Audrey Zee Whitesides bass), but their live show left me cold. The vocals were unclear, the sound a little muddled – it felt like we were watching the sound check rather then the actual set.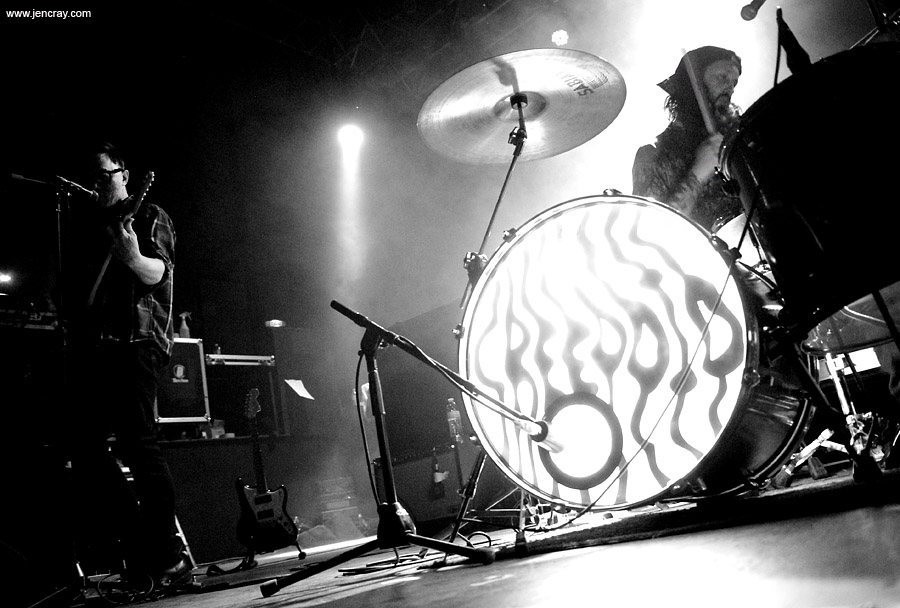 Creepoid were all moody and spacey and kept whining about the stage lights being too bright, but buried underneath all of their crankiness was some beautiful lo-fi shoegazing. The Philly band, whose vocals are split between guitarist Sean Miller and bassist Anna Troxell, are steeped in fuzz and distortion yet dreamily mellow. Unfortunately, this too didn't quite translate in a room all keyed up for some punk rock. Creepoid could wrap its music around me in the darkness of my living room – and, listening to them now on their website, I'm kicking myself for not buying their album at the show – but as an opener for Against Me, they were too dialed down.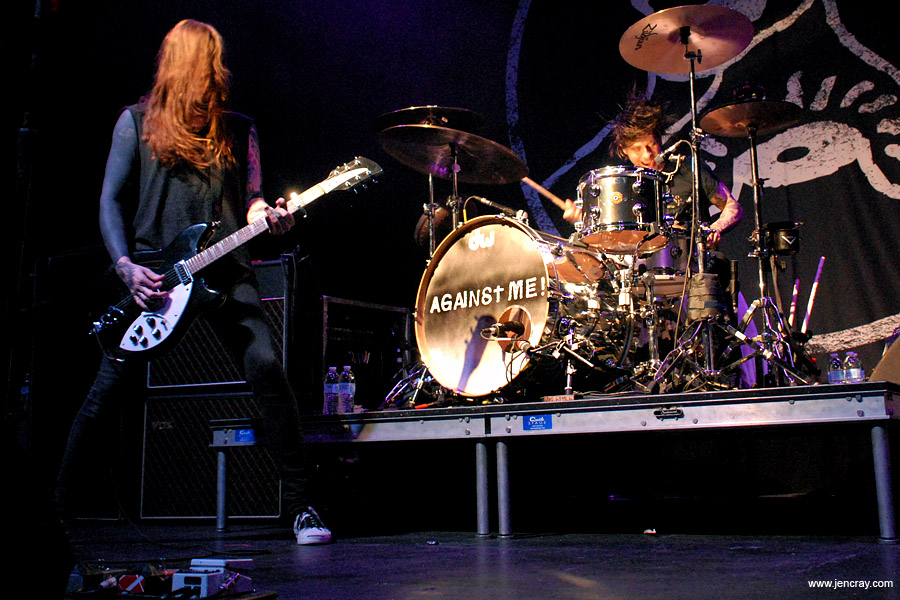 The energy level in the room got jacked back up pretty quick once Against Me stepped out. Buried beneath a curtain of hair so luxurious it could push high end beauty products, Laura Jane led the band through an unyielding set layered thick with songs from their earlier, less polished releases, most especially 2002's Reinventing Axl Rose. While audiences these days don't seem to lose their shit in mass circle pits like they used to, the responses to these older cuts were still very audible. There were even a few very determined men who tried their damnedest to stay afloat in a crowd surf during "T.S.R. (This Shit Rules)," and "White People for Peace."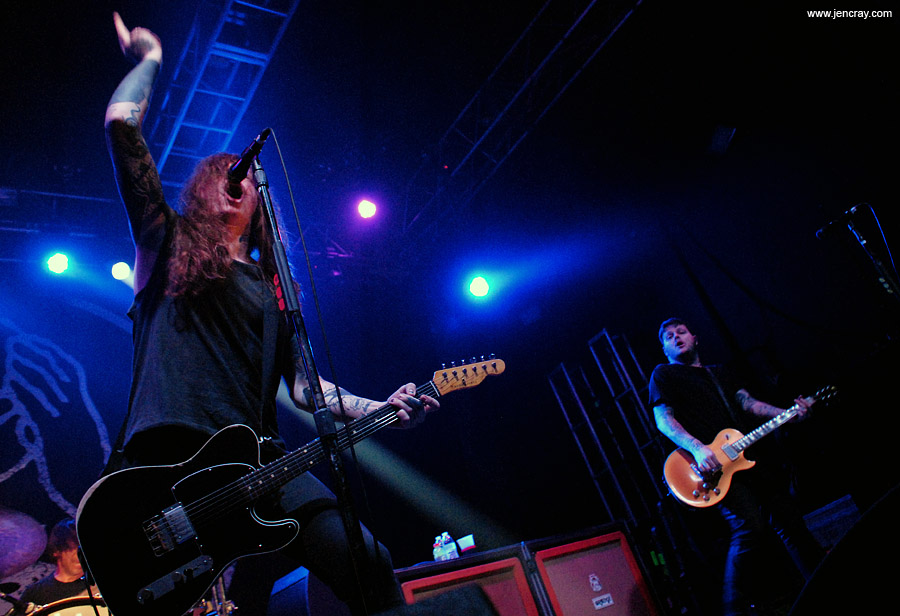 The aggressive side of Against Me was cranked up high for this set, which made the confessional ballad of depression and loneliness "How Low" sound all the more powerful. Not that I wasn't enjoying the hell out of bopping around to "Don't Lose Touch" and "Unconditional Love" cause, believe me, I was, but "How Low" cast an introspective glow over the room. The song was written a decade before the monumental Transgender Dysphoria Blues, but sounds like a prequel to it in retrospect.
The band dialed things back up for another onslaught of intelligent minded, nakedly personal punk for the remainder of the night. Band members onstage may change (though I hope this current lineup becomes a permanent one), but Against Me's position as a live band who hold nothing back is a constant. It's what keeps me coming back, tour after tour. ◼
Galleries of live shots from this show: Against Me;Creepoid;Worriers◼
Against Me: http://www.againstme.net/
---