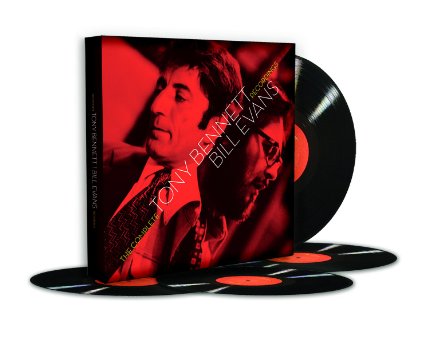 Tony Bennett and Bill Evans
The Complete Tony Bennett / Bill Evans Recordings
Concord Music Group / Fantasy
They say "everything old is new again" and here's a re-issue that proves the point. Like so many musical releases crossing my desk, there's more than a stack of cleaned up CDs to be had, out there you can groove to an old school 180 gram vinyl stack of wax ready to acquire pops and skips a too cool surface hiss. This is a collection for purists of male vocals, modern Jazz, and the Great American Song Book.
Here we find Tony Bennett and jazz piano master Bill Evans meeting up for a pair of magical recording sessions. You can read the liner notes and debate if these arrangements were truly improvised on the spot, but I can tell you this: off the cuff or pre-planned, they are some of the finest vocal recordings ever laid down. Bennett was an old school crooner from Queens; Evans a hot jazz pianist from New Jersey and they both shared widespread success. They teamed up twice in 1975 and 1976 to make two successful albums that were simple, direct and faithful to the sounds that defined a post- War musical scene that did its level best to ignore Rock and Roll.
Technically, these are very sparse arrangements with little more the piano and vocal and maybe an occasional riff from a snare drum. The first thing I notice is how empty these tracks sound, Bennett almost sounds distant and Evans is most noticeable for what he doesn't play than what he does. Unlike most modern music that's compressed to fill the dynamic range of the CD format, there are quiet parts you really focus on, crescendos that make you feel the microphone is pulling away, and bridges that take their sweet time getting anywhere. When there is quiet it speaks volumes, and when there's a note or a lyric it feels like there is more, much more room for Bennett to reach into. A palpable sense of negative space in this sound makes it special.
The boxed set offers both albums and an equal amount of alternate takes. A specialist will pick apart the subtle shades of difference; the more straightforward among us will think we've just double-tracked the whole collection. The original releases are The Tony Bennett / Bill Evans Album and Together Again but 20 tracks make it into your hands. Bennett has his hits ("Do as the Romans Do," "Make Someone Happy") and delightful obscurities (" Waltz for Debby," "You Must Believe In Spring") but all carry a late night smoky lounge sound. This can be the soundtrack of you next Mad Men party or the back drop to a lazy rainy day in September. Wait, is that a title?
http://www.concordmusicgroup.com/artists/Tony-Bennett-Bill-Evans/
---