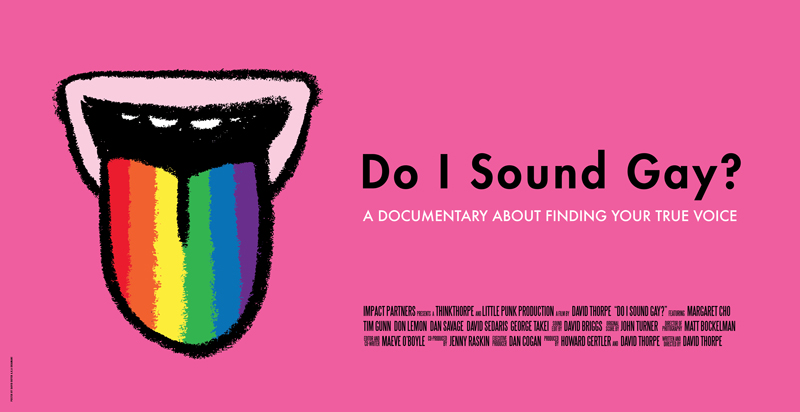 Do I Sound Gay?
directed by David Thorpe
starring David Thorpe, Margaret Cho, Tim Gunn, Don Lemon, Dan Savage, David Sedaris, George Takei
Without treading on any modern taboos, just why DO gay men have that distinctive speech pattern? Is it over emphasize on feminine speech (you talk like girl!), is it an attempt to sound high class like a 1930's film and failing to hit the masculinity mark? Perhaps it's just a modern statement of self: "THIS is who I am." David Thorpe sets off to change his voice but discovers it's not that easy, and maybe his best path forward is accepting himself as he is. But before that can happen, he's off to speech therapists, acting coaches, and old friends. He checks in with the famous and not so famous: George Takei, Dan Savage and David Sedaris weight in, as do his old friends and even his grandmother.
Everyone acknowledges the "gay voice" situation exists, but not everyone wants to change it. We learn a few technical points about male speech: over enunciated vowels, strong P, T and K sounds, and excessive sibilance on the letter S add up that Charles Nelson Riley sound. In the end, Thorpe successfully drops his register a bit but never loses the distinction. While he works to sound straight he ultimately he goes with the flow and accepts himself. His story is interesting if not earth shattering, but he's likeable and he does answer a question perhaps not often asked.
This film is part of the 2015 Florida Film Festival www.floridafilmfestival.com
---