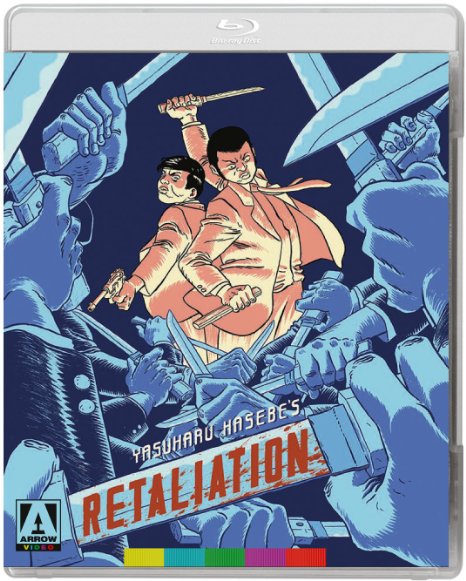 Retaliation and Society
directed by Yasuharu Hasebe, Brian Yuzna
starring Akira Kobayashi, Billy Warlock
Arrow Films
In the bad old days of just a few years ago, the discriminating consumer of exploitation flicks had to rely on bootleg or grey market DVD releases to fulfill their needs. Sure, these washed-out, bare-bones releases would get the job done, but viewers dreamed of a day when these films would be treated with the care and restoration that they deserved.
Since then, a number of companies have sprung up distributing even the most obscure and rare grindhouse titles to a grateful public. Arrow Films a newcomer to the states, has been on fire recently, releasing handfuls of lovingly restored movies that exploitation fans never dreamed would come out on legitimate releases.
First up is Retaliation, continuing Arrow's line of Yakuza films.
Stylishly directed by Yasuharu Hasebe who directed Arrow's previous release Massacre Gun, Retaliation stars Akira Kobayashi as Jiro Sagae, a gang member fresh out of prison who finds that two rival gangs have taken over a city of farmers he once controlled. Sagae assembles a team consisting of ex-actors, singers, and card cheats to combat the two gangs, while the brother of a gangster he killed is out for revenge.
While as twisting and honor-based as the previously reviewed Yakuza films, Retaliation, shows the conflict between the old Yakuza and the new, more business-oriented Yakuza. As one character says, "Old style gangsters can't compete against modern methods."
Hasebe once again demonstrates his love of camera angles and staging, whether filming an alley fight from far above, filming a fight illuminated by flashlight, or cross-cutting a torture scene with dance music at a nightclub. Hasebe also experiments with sounds, like the almost oppressively loud bug sounds as Sagae exits prison.
The Blu-ray looks amazing, with sharp color, probably looking better than the film has ever looked. Extras include interviews with Yakuza film expert Tony Rayans and actor Jo Shishido, as well as a trailer and gallery.
Viewers looking for an entrance into the sprawling world of Yakuza films would do well to start with Retaliation, with its themes of honor and friendship as well as chaotic violence.
Society, the other movie in Arrow's batch of new releases, is a surrealist-inspired body horror from renowned genre director Brian Yuzna (Re-animator.
Bill Whitney (Billy Warlock) is a privileged teen who can't shake the feeling that he is different from his Beverly Hills family. Maybe it's the nightmares he's having or the odd hallucinations about twisting bodies. After a friend gives him an audio tape revealing that there really is something different about the rich and powerful, Bill is on a quest to find the truth.
And for gore-lovers, that truth is something special indeed. Culminating in a coming-out party/orgy consisting of some of the most insane practical effects committed to film, Society delivers a surrealistic climax of morphing, twisted bodies.
Out of print since the late '80s Society looks crystal clear and is loaded with extras. Fans of practical effects will be especially interested in "Champions of the Shunt," a discussion of the impressive special effects used in the movie.
Arrow Films is quickly becoming the Criterion of genre films, with flawless restorations and releases loaded with extras. Fans or viewers looking to acquaint themselves with different genres will no longer have to put up with choppy, washed-out pictures or YouTube edits.
-bm
---