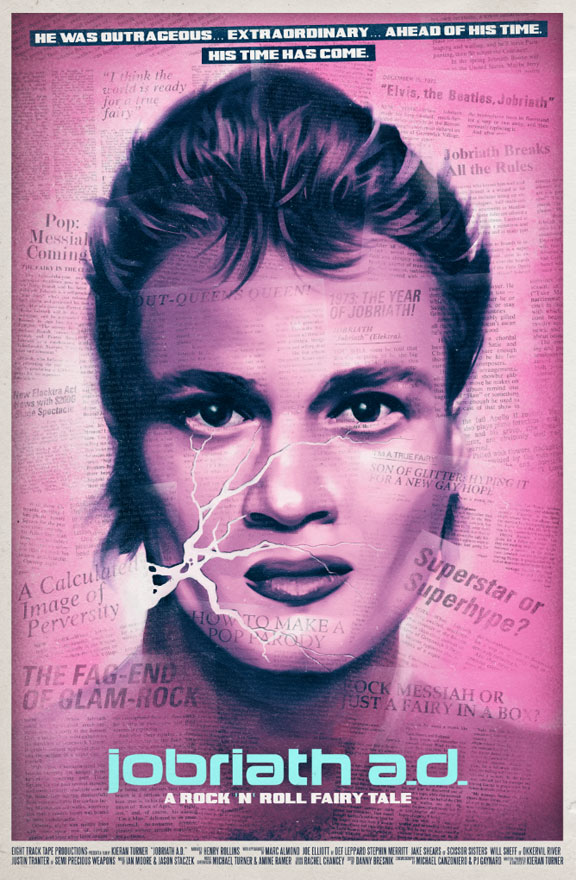 Jobriath A.D.
directed by Kieran Turner
starring Jobraith, Jerry Brandt, Jayne County, and Dennis Christopher
Factory 25
I thought I knew Glam rock but somehow this guy slipped past my radar screen. Jobraith (Bruce Wayne Campbell) was the first openly gay rock star in an era when that was NOT a career move. You know how to tell the pioneers – they're the guys with arrows in their back. But he looked the Glam look, walked the Glam walk and his career cratered after he (reportedly) blew $200,000 on 3 night stage show in Paris. He went on to play "Woof" in the musical Hair and that leads us to this odd disc with an impressive cover, a gatefold sleeve, and a difficult to read essay by Kieran Turner. We learn the story of the musical Jobraith planned to write; the album is basically an audition tape presented to Joe Papp, the famous Broadway producer best known for A Chorus Line. Jobraith talks through the plot and sings the melody of the main songs as he describes the arrangements. The sound quality is what you would expect, lo-fi audio from Dictaphone with a few songs more completely arranged and featuring better female vocals. Is this danceable? No. Is it historic? Yes. Did this project go anywhere? Of course not. Musical theater only offers two outcomes to any romance: happy ever after, or death.
More interesting is the pink DVD tucked into other recesses of the sleeve. It's a comprehensive documentary about Jobraith's career by Kieran Turner featuring his agent Jerry Brandt, Jane County, Def Leppard, and a dozen other semi-celebs. Here's where you can see video of Jobraith performing and auditioning and come to some understanding of who he is and how he almost became famous. If nothing else, Jobraith influenced David Bowie in the characters of Ziggy Star Dust and Aladdin Sane. It's an interesting documentary based on fading archival footage and dozens of interviews. Jobraith had faded away many years ago; it took the might of Morrissey to reissue his music in 2004 on a cd called Lonely Planet Boy (with the title derived from a 1973 New York Dolls track.)
His story is tragic as are all great documentaries. Jobraith did have talent, but at this point in time it's difficult to say if he was simply good or truly great. Interestingly, there is no interview footage with Morrissey, he simply refused to talk to Turner, and he discusses this in more depth than needed on this commentary track. Perhaps the best parts of the documentary are the segments about producer Jerry Brandt, he called "The Svengali of Rock and roll", and it's his genius that took Jobraith on the too-short journey of a rock and roll career. As a vinyl item, this project somewhat interesting but not compelling, the reason to acquire this impressive looking product is the ultimately heart-breaking DVD.
---