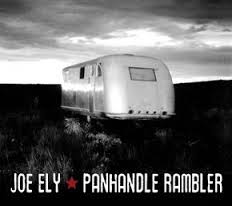 Joe Ely
Panhandle Rambler
Rack 'Em Records
One can certainly point to Bristol or Nashville as being the origin points of country music, and California has had a profound impact as well, but for my money, you can't overlook Texas. From the outlaw hippy movement from Austin, to the genre-breaking Western Swing of Bob Wills, Texas more than holds it own, and the little West Texas town of Lubbock might be it's greatest secret. Buddy Holly was born here, Waylon Jennings grew up a few miles away, and of course The Flatlanders- Jimmie Dale Gilmore, Butch Hancock and Joe Ely- began in the flat, hot town before finding international acclaim.
The latest from Joe Ely, Panhandle Rambler, might be one of his best, and with a career as lauded as Ely's, that's saying something. It's a largely acoustic album, with nylon-string guitars entwining with the lovely accordion flourishes of Joel Guzman, and with it's relaxed pace and expansive yet subtle vistas of sound, it feels at times as if you're on the Mexican border ("Wounded Creek" and "Coyotes Are Howlin'").
As with nearly every Ely album he performs a number from his good friend and band-mate Butch Hancock, and this time its the somber "When The Nights Are Cold", and fellow Texan Guy Clark's "Magdalene" is perfect, with Ely's well-worn voice imploring the reluctant object of his affection to "come on" and join him before the night is over.
The record isn't totally low-key, however. The infectious "Southern Eyes" and shout-out "Here's To The Weary" give a hint of the Ely of old, the one that toured with The Clash. But it's on numbers such as the poetic "Wonderin' Where" or the pedal steel-infused "Cold Black Hammer" that Ely and crew let the music slowly unfold, making Panhandle Rambler one of the best sounding Ely releases to date. Joe Ely was recently named Texas State Musician of 2015, joining previous honorees such as Willie Nelson, Johnny Gimble and Flaco Jimenez, among others. It's a tribute long overdue to one of Texas' best.
---