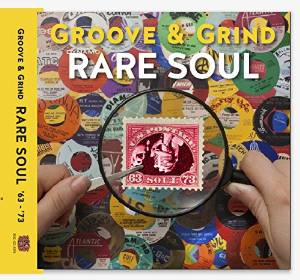 Various Artists
Groove & Grind Rare Soul '63 – '73
Rock Beat Records
Well this is an embarrassment of riches for the soul fanatic. 4 cds, 112 songs with a 120 page book by Bill Dahl for under 40 bucks? From the opener "My Baby Likes to Booglaoo" by Don Gardner to the closing "I Got A New Thing" by Willie Smith, this set will keep the R+B enthusiast entertained for hours. Any crate digger worth his salt knows the special thrill that comes from finding that ultra-rare side, or discovering a previously unheard classic. (And if that sentence didn't make any sense to you, well then, more records for me!).
Short of spending untold hours (and cash) trying to find some of these records, most of which were released on small, independent labels, this handsome package can certainly tide you over, as well as introducing even the most stone soul freak to artists they have never heard or even heard of. The CDs are broken up into 4 categories, the first is "Urban Soul", featuring releases from cities of note: New York, Chicago, L.A., Detroit and of course Philly. Now the set is entitled "Rare soul" and they ain't woofin'. Lessor known works from major artists abound, such as Ike & Tina Turner's barn-burner "You Can't Miss Nothing That You Never Had" or "Walkin' and Thinkin'" from King Floyd. Disc 2 highlights vocal groups such as The Four Pennies with "You're A Gas With Your Trash", "Victim of Loneliness" from The Pace Setters and more.
The third disc turned out to be my favorite, since it's all about Southern Soul, that hybrid of soul, blues and rock forged in the heat and the sweat of my birthplace. Candi Staton's "Now You Got The Upper Hand" and "Mr. Lucky" from Betty Wright are standouts, as well as deep cuts from Eddie Floyd, Carla Thomas, Bobby Parker and the great "The James Brown Bougeloo" from Little Genie Brooks. Told ya this stuff was rare. Finally, disc four is all about the funk, to get you up and dancing to classics such as "The Sno-Cone" from Lloyd Hendricks, King Earnest with "The Soul Stroke (Can You Handle It") or "Hep Squeeze" from Mad Dog & The Pups. Guaranteed to get you shakin' your tailfeathers.
Can't say enough about this set, it's truly a labor of love, hours of listening and packaged in a nice hardbound book. Get two- one to give away, and one to groove on when the record store ain't open!
---