Janet Jackson
Amway Arena; Orlando, FL • September 23, 2015
by Jen Cray
When you talk about pop music royalty, Janet Jackson is one of the brightest stars still burning. On more than one occasion, I found myself looking up to the stage and feeling a little starstruck at the realization that right there, performing about 10 feet in front of me, was a Jackson. "Ms. Jackson, if you're nasty." My mind rolodexed through a colorful history of the music royalty that is her and her family, and it left me almost as breathless as her troupe of dancers.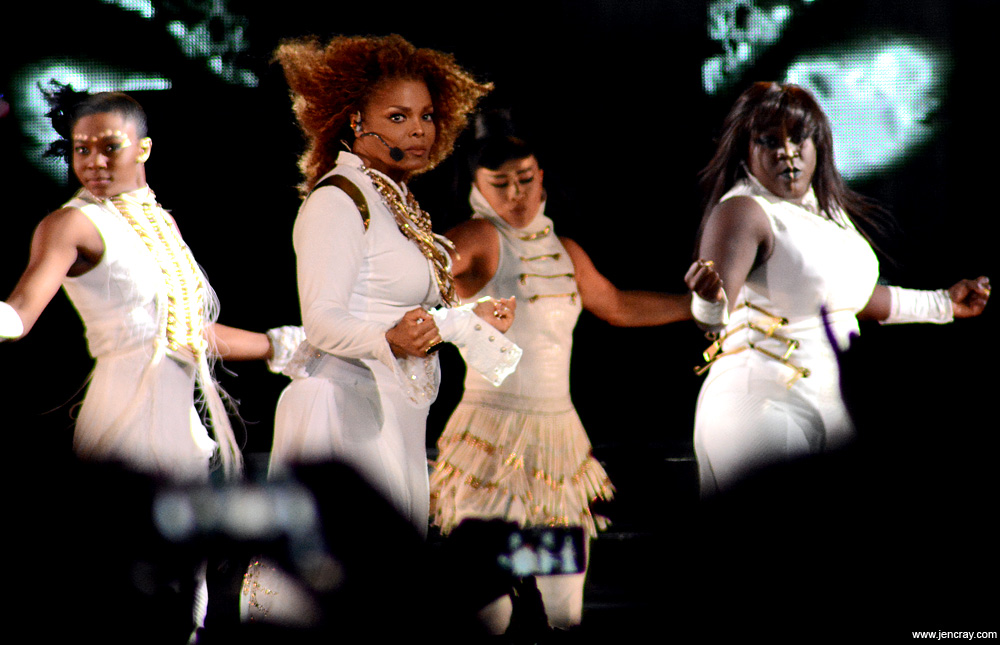 And speaking of dancing, this show was all about it. From the opening bass notes of her brand new club-ready single "BURNITUP!" (performed with a video of Missy Elliot rapping along on a massive screen behind her), the choreography was everything you could possibly hope for when attending a Janet Jackson concert.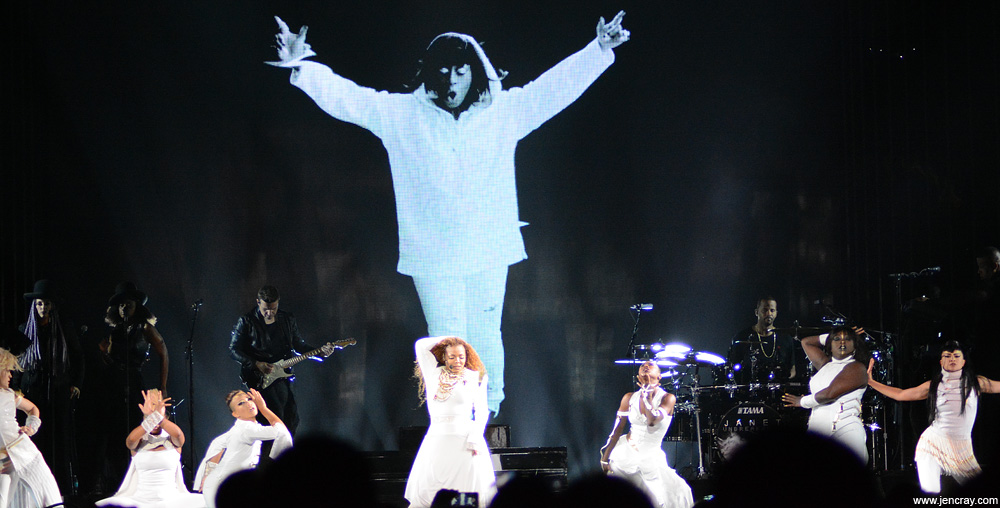 After opening with her new song (bold move, Janet!), the following 30 minutes was a nonstop greatest hits extravaganza that highlighted her 80's hits. "Nasty," "The Pleasure Principle," "Miss You Much," "Control," "When I Think of You" – oh man, it was all there! Janet, with long luxurious red hair and wearing a white Indian inspired pant suit, fronted up a group of phenomenal female dancers that included a pair of preteens, and the dancing was constant up until a short intermission and costume change gave everyone a break.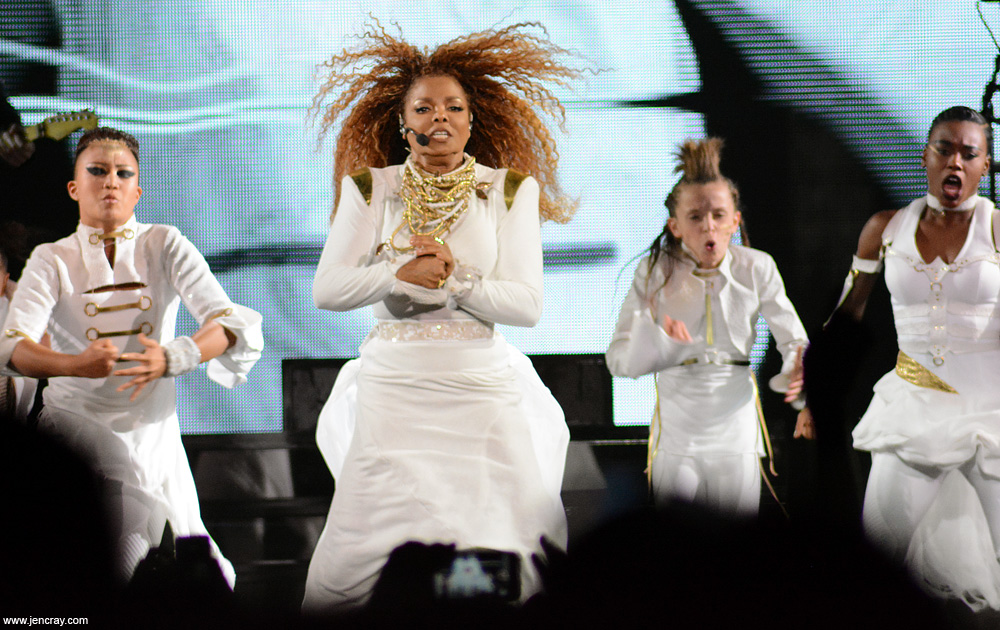 Stepping out solo, all in black this time, Mrs. Jackson took at seat on a stool, with large screens playing animations for ambience on either side of her, and sang through a handful of ballads. "Let's Wait Awhile," and "Come Back to Me" were gorgeous, but "Again" was absolutely heartbreaking in its beauty. It's one of those songs I had forgotten all about, getting lost in the dance floor hits that first pop to mind when I think of her music. I'll never forget about that song again, after hearing it live.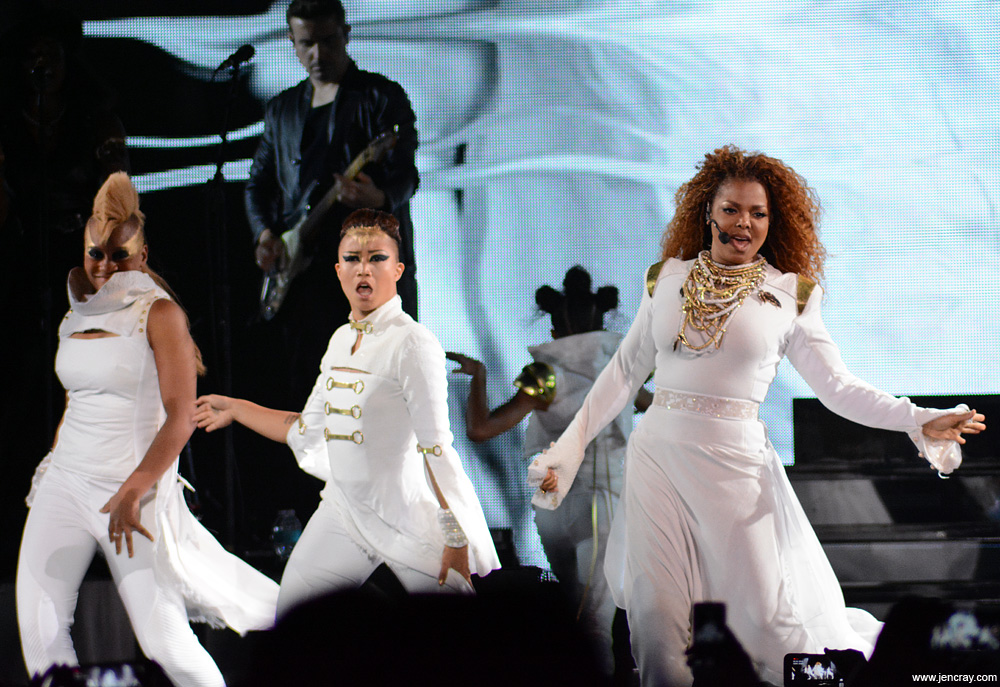 The tempo began to step back up for "Got Til Its Gone," and "That's the Way Love Goes," but it was the final stretch of songs that blew the nearly capacity arena up (literally, their were explosions onstage). "Black Cat," followed by "If" would've been enough of a show closer, but then she took it a step further by taking it into "Scream," her duet with brother Michael – whose vocals blared through the speakers and tickled the hairs on the back of my neck.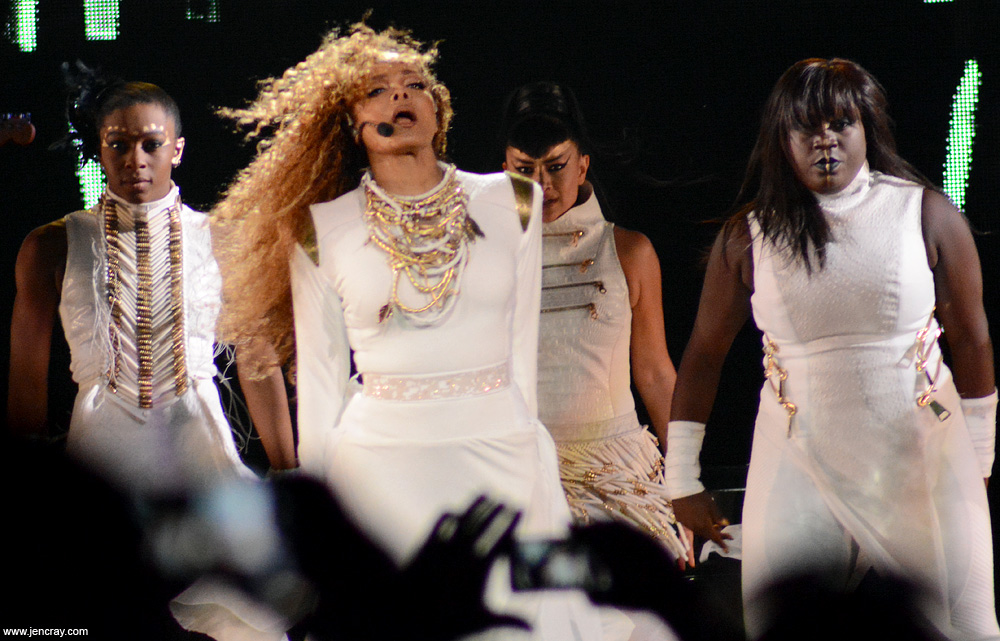 That's the end? No!
"Rhythm Nation" happened, with all of its iconic choreography intact. There was no re-imagining of the classic, it was presented as we all remembered and loved. An encore followed, but it wasn't even needed. The flame couldn't burn any brighter than that. ◼
Gallery of live shots from this show.
---