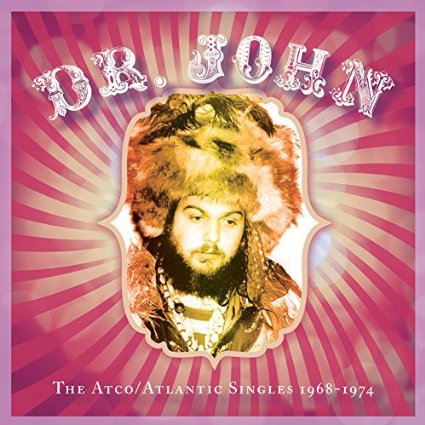 Dr. John
The Atco/Atlantic Singles 1968-1974
Omnivore Recordings
Mac Rebennack- AKA Dr. John- has been the New Orleans ambassador of funk since he first began as a session musician at the age of 16 for Ace Records, working with such legends as James Brooker and Earl King. But starting with 1968's Gris-Gris– one of the trippiest, funkiest records you'll ever hear- he became known more as a leader- "The Nite Tripper", and that album (represented here with "Mama Roux", "Jump Sturdy" and the classic "I Walk On Guilded Splinters"), his persona as a voodoo-practicing, king of the night musical shaman was set, and he released a string of albums- Babylon from 1969, 1970's Remedies that while extremely great, didn't crack the charts.
But 1972's Dr. John's Gumbo– featuring his take on classic New Orleans music including "Iko, Iko", "Big Chief" and the homage to his mentor Professor Longhair, "Tipitina" opened the ears of the world to a large extent to both Dr. John and New Orleans unique blend of soul, rock and second-line rhythms. In The Right Place from 1973 featured the title smash that saw John backed up by The Meters and produced by the legendary Allen Toussaint (who added the addictive Clavinet intro). The record, that also featured "Such A Night", "I Been Hoodood" and "Cold Cold Cold" (all included here) became his greatest selling record, and was followed up by 1974's Desitively Bonnaroo, which in addition to giving the popular festival its name, contained stone funk classics as "Me-You=Loneliness" and "Mos' Scoious". This album contains my fav Dr. John moment, the compulsive "(Everyone Wanna Get Rich) Rite Away", propelled by the in-the-pocket bass genius of The Meters George Porter Jr., that makes it impossible to just sit and listen. You must get up and feel the funk.
In fact, The Atco/Atlantic Singles 1968-1974 shows a brilliant musician at the height of his powers, with rare cuts such as "The Patriotic Flag Waver" and a sizzling "A Man of Many Words" with Buddy Guy and Eric Clapton among the 22 cuts found here, and if you remain sitting down while playing- check your pulse. Cause you be dead.
---