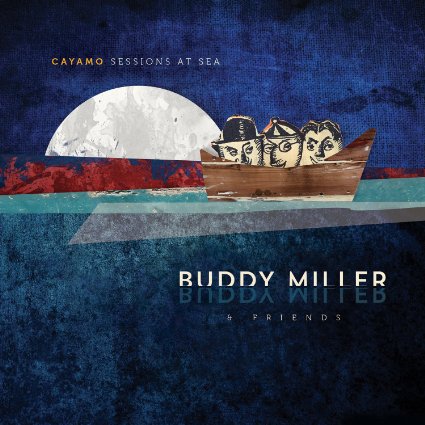 Buddy Miller & Friends
Cayamo Sessions At Sea
New West Records
The chances of me boarding a floating petri dish called a cruise ship are slim indeed, but if I do, I want Buddy Miller on it as well. In 2012 Miller rounded a bunch of the Nashville elites, put them on a ship and stuck mics in front of them, and the result- Cayamo Sessions at Sea is the result, and it's damn fine. Buddy Miller has long been the nucleus around which great things happen, either as a guitarist, songwriter or producer, and he gets a chance to don his many hats here.
Doesn't hurt that his friends are pretty special as well. Starting off with Lee Ann Womack on "After the Fire Is Gone"(damn that girl can sing) and followed up with a salute to Buck Owens by Kacey Musgraves on "Love's Gonna Live Here", Miller has assembled some of country music's greatest voices and let them rip. Kris Kristofferson offers up his "Sunday Morning Coming Down", while the homeless to headliner Doug Seegers sounds great on his "Take The Hand of Jesus". Lucinda Williams is perfect on Gram Parson's "Hickory Wind" and she's matched by Shawn Colvin's take on the Stones "Wild Horses".
The band that Miller put together are no slouches either. From bassist Dave Jacques (a member of John Prine's touring group), Joel Guzman on accordion, Larry Campbell on steel guitar, and the matchless Fats Kaplan on fiddle and steel, they, along with Miller on guitar, provide flawless backing for Richard Thompson on "Wedding Bells" or Nikki Lane on the Jack Clement classic "Just Someone I Used to Know". Yes indeed, might need to develop some sea legs if Buddy Miller chooses to do this again!
---