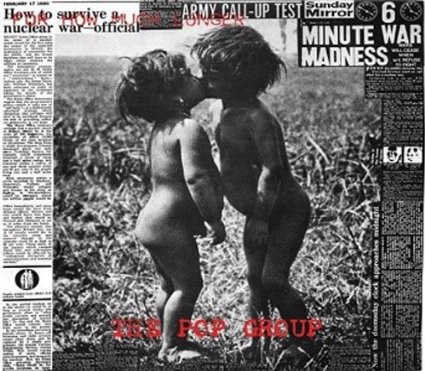 The Pop Group
For How Much Longer Do We Tolerate Mass Murder
Freaks R Us
My first though when I heard this reissue of For How Much Longer Do We Tolerate Mass Murder was, good god, no wonder I was so depressed in college!
I owned this record when it first came out. It was like a lot of what I was listening to then, loud, angry, political and not very optimistic. The agit-prop posturing of vocalist Mark Stewart bangs away at the ills of the world. Looking back, the Pop Group were screaming, the world is fucked and nobody is doing anything about it. Just the kind of thing an angsty undergrad social science student would eat up.
Playing it loudly also bugged the crap out of the preppy dudes in the dorm.
The Pop Group came out of Bristol in the ferment of the late '70s post punk movement. Their music raged against injustice in a way that made bands like The Clash and Gang of Four sound like college debate clubs. The musical mash-up brought together funk and dub rhythms, free jazz and squally avant-garde guitar freak-outs and abstract sonic experimentation. It was, and remains, a potent sonic stew.
It's rather sad that, all these years later, the rants still ring with inconvenient truths. The "hit" single from For How Long Do We Tolerate Mass Murder is a song that echoes my old philosophy professor's favorite saying; "We Are All Prostitutes." Both singer Mark Stewart and my old professor assert that we all sell ourselves for whatever we can get. The only difference between a college professor and a call girl is what they're selling and how much they're getting paid.
Elsewhere, the names could use updating, but the subjects are sadly the same. You could switch out Nixon and Kissinger for Bush and Cheney and the title track would be pretty up to date. The same could be said about the rant about big banks. The song "Justice", could apply just as well to Ferguson or Baltimore; who is policing the police? I guess the world is still pretty fucked up.
The Pop Group's sound was a volatile mix and For How Much Longer Do We Tolerate Mass Murder was their second and last studio album. After the band split in the early 80's, members moved on to groups like New Age Steppers, Pigbag, Rip, Rig and Panic and Public Image Limited. The Pop Group reformed in 2010 and released their third studio recording Citizen Zombie in 2015.
---