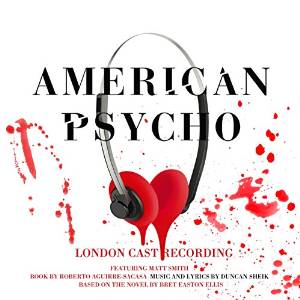 Duncan Sheik
American Psycho: Original London Cast Recording
American Psycho might not have cleaned up at the Tonys but it's spawned a unique and intriguing sound track. This release gives you the bones of the musical but leaves out a few plot points; there are some otherwise inexplicable sounding elements along with some great remixes by Mr. Sheik.
The musical derived from a novel by Bret Easton Ellis; it follows upscale New Yorker Patrick Bateman in the high flying 1980s as he descends into the life of a serial killer. He's living the GQ life style "Morning Routine"; we get a fashionable exposition dump in "You Are What You Wear", and build character with "Oh, Sri Lanka." All of this will appeal to the theatre lover, but what the music love will tend toward the 1980s remixes of "True Faith", "In the Air Tonight" and "Everybody Wants to Rule the World". Complex harmonies and synth heavy arrangements leave the electro drum beats back in the MTV bin as Sheik applies his smooth musical sensibility to the tunes.
The plot develops as we go; Bateman's gruesome hobby slides us into the world of Sweeney Todd and Assassins. Bateman sums up that decade in his own perverse manner, Sheik re-wires the synapses of the music to today's mind patterns, and we have a perfect pastiche that paints a warm glow around the past and smooths over the sound to make it more palatable for a modern ear. As sound tracks go, this one has some fine music but much more stage dialog than most sound tracks; it's a bit off putting at first but eventually grows on you with repeated listens. Still, few of Bateman's lines have any lyrical sense to them. This musical did well enough but may not make it in the stage cannon of the next few decades, but it's an interesting take on the Mid-Life Crisis musical genre.
http://duncansheik.com; http://AmericanPsychoTheMusical.com/
---