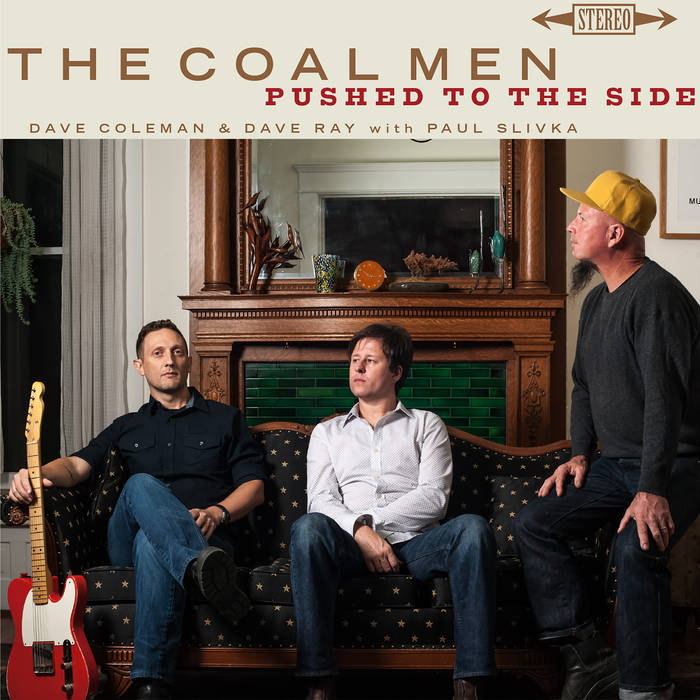 The Coal Men
Pushed to the Side
Vaskaleedez Records
You'd think that a band as classically tuneful and deep as The Coal Men (Dave Coleman, guitars and vocals, drummer Dave Ray and Paul Slivka on bass) would be huge stars by now- Pushed to the Side is their fifth album- but instead of fretting about that, the trio just keeps making great records. Coleman is a Nashville legend of sorts, using his skills to create somber slices of alt-country magic, from the opener "Depreciate" or the laconic "Willy Jett". His guitar style has a touch of Mark Knopfler, being that the space between the notes is just as important as the melody. This record slowly unfolds, its twelve cuts sneaking up on you, long after the initial listen.
Beyond the great songwriting and guitar, this record sounds simply fantastic. Songs such as "Fast Rider" or "Lilly Hurst" seem to float in space, (Coleman produced and mixed the album), with subtle pedal steel and the steady drumming of Ray. But not all is low-key, with their tribute to Jason and the Scorchers "Speeding Like A Demon" with Coleman sounding like the second coming of Don Rich or Bill Kirchen with some gnarly Tele licks, letter perfect.
The record ends with "The Singer (In Louisville)", adapted from a short story by Tommy Womack on Based On: Words, Notes and Art from Nashville, and it sends the record out on a strong note, in what seems to be a semi-autobiographical look at the ups and downs of a life on the road, which Coleman and crew know all too well. Pushed to the Side is what you call a sleeper, a work that slowly engages as it unfolds its measured mysteries. Play on Colemen, play on!
---