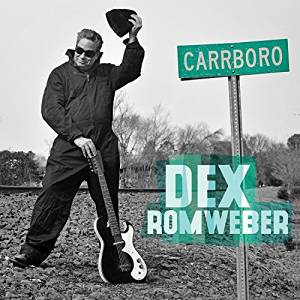 Dex Romweber
Carrboro
Bloodshot Records
Dex Romweber has been creating music for so long- and so effortlessly- that one can forget just how good he really is. Ask Jack White, who rode the path laid out by Romweber and Crow in the Flat Duo Jets to fame and fortune (much more fame than Dex has ever gotten) or any "psychobilly" band, and they will tell you just how influential the North Carolina native truly is. His newest, Carrboro, his fourth release on Bloodshot – (named for his home town) – is more of the same.
Dex has big ears, and if a song sounds good to him, well, he'll try it. Take "Smile", the Charlie Chaplin-penned hit for Nat King Cole which Romweber tackles with just a piano, or his version of "Trouble of the World" (originally made famous by the "Queen of Gospel", Mahalia Jackson), done with the group The New Romans, which remakes the song into a rock-a-billy swinger, with Dex's tortured vocals delivering the song in a completely different mood. A few instrumentals- "Midnight at Vic's" and "Out of the Way" have Dex playing all instruments, while his version of "My Funny Valentine" becomes almost a new song in his hands.
But it's greasy, frantic rock and roll that Romweber is most known for, and Carrboro doesn't disappoint. "Nighttide" and "Lonesome Train" remind you of the greatest moments of the Flat Duo Jets, and "Knock Knock (Who's That Knockin' On My Coffin Lid Door?)" – with Southern Comfort on the Skids leader Rick Miller on guitar and production is A-plus. Dex Romweber might not be as well-known as those that have come after (same thing happened to The Ramones, sad to say) but as long as he still slaps that Silvertone guitar around and howls at the moon, I'll listen. Always have, always will.
---