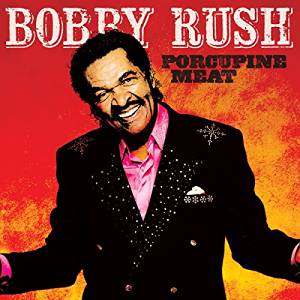 Bobby Rush
Porcupine Meat
Rounder Records
Born in Homer, Louisiana in 1933, Bobby Rush is one of the few remaining links to the "golden age" of blues since his family moved to Chicago and Rush started playing clubs along with greats such as Muddy Waters and Jimmy Reed. Since then Rush, who estimates he's recorded over 300 songs, has developed his unique style, a form of bluesy funk – well captured on the box set Chicken Heads– and with his new record (and first for Rounder) Porcupine Meat, the 83 year old doesn't seem to taking it easy, to say the least.
Recorded in New Orleans, the record opens with "I Don't Want Nobody Hanging Around", and it's vintage Rush- his commanding voice workin' it over a nice '70s -era funk base. Next up is the title cut, which laments a troubling woman- "too fat to eat, too lean to throw away" – and features Vasti Jackson on guitar. From "Snake in the Grass" to "I Think Your Dress Is Too Short" or "Funk o' de Funk", every cut is built on some serious grooves, with Bobby's smooth style riding atop. The record has some help from some notables such as "Nighttime Gardener" with Keb Mo, "It's Your Move" with roots legend Dave Alvin and "Me, Myself and I" which features a smoking guitar solo from Joe Bonamassa.
Bobby Rush has well earned the sobriquet "legendary", and in his 6th decade of performing shows no signs of slowing down. Even though the record ends with the fiery "I'm Tired", don't believe him. Bobby Rush is probably gonna outlast us all- eating Porcupine Meat.
---