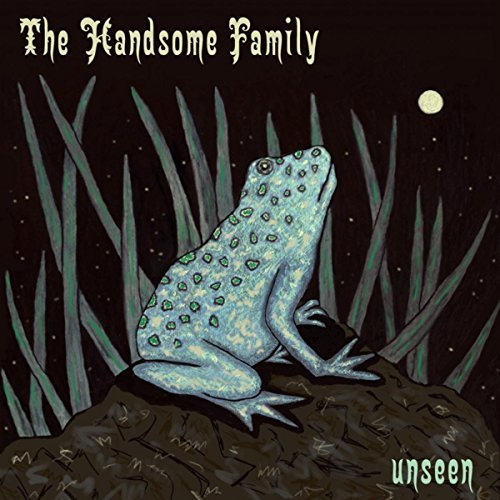 The Handsome Family
Unseen
Milk & Scissors Music
Husband and wife Brett and Rennie Sparks have been creating their unique blend of country, blues and bluegrass murder ballads as The Handsome Family since the release of their debut, Odessa in 1994. Along the way they have released ten studio albums, a few live releases, and saw their notoriety soar when their song "Far From Any Road", from 2003's Singing Bones was used as the theme to the HBO hit series True Detective. Their newest, Unseen continues their fascination with the American song from their home in Albuquerque, New Mexico.
One can almost hear traces of the high desert in songs such as "Gold" or "Underneath the Falls", whereas "Tiny Tina" or "The Silver Light" sound transplanted from the hills of Appalachia, from some previously unheard A.P. Carter collection. Brett handles the music while Rennie creates the words (and plays banjo and autoharp "here and there") and it's a mixture that works. The music they create is on first listen somewhat sedate and unassuming, but the lyrical content is dark- dead bodies all around such as "The Sea Rose"- a dead woman woos passing men to "marry in the sea weed" or the "King of Dust" ruling over a desert plain. They channel "Forever Young"-era Richard Manuel on "The Red Door", bringing to mind the impassioned vocals of the late Band member over a lazy piano.
Unseen continues The Handsome Family's string of excellent albums, and to the newly converted, you'll have loads to listen to. The art they create is never rushed, never frantic- and always just a bit mysterious.
---