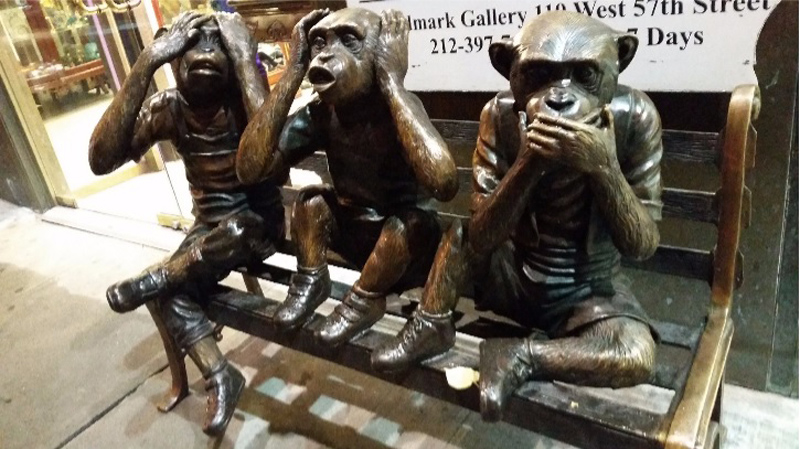 Shock and Consternation: The Night of Trump
by May Terry
Few slept the night before, watching with anxiety as states turned red like a train of falling dominoes. For many reasons that I'll leave to pundits and water-cooler talk to fathom, it was undeniably a false sense of security, and admittedly smugness in the Democratic sentiment that New York's Javits Center, the site for Hillary's supporters on election night, with its gorgeous glass ceilings, would be the symbolism to break it with the first woman president. And now uncertainty. And fear. And mostly, helplessness.
In retrospect, it wasn't about losing the election. It was losing to Trump. Or rather, it was all that Trump embraced throughout the bitter election. But what did this say about us as a nation when we couldn't build bridges instead of walls? Or joining the world in the war against climate change rather than wars of conquering lands where victors take the spoils? When love did not trump hate? When the message of intolerance for religious or gender preference prevailed? What have we come to? We had an incredibly flawed candidate in Hillary Clinton, but she was nowhere near advocating, or even dangerously pretending to encourage xenophobia and racism? And even if was all rhetoric, what damage did this create for those that held such views as gospel and now consider it a mandate? It was an alternate reality on order of Phillip K. Dick's The Man in the High Castle.
This is what marked the day-long rollercoaster of emotions that clouded my head, and the energy all over the office. Like Hillary's bout with pneumonia, I tried to power through, taking a couple of breaks to dry my tears with the cheap 1-ply toilet paper in the solitude of my bathroom stall. And I wasn't alone. Many of us in the office did. Early in the afternoon, some gathered around a laptop streaming Hillary Clinton's admirably honest and heartfelt concession speech, and just lost it. And we were no different than the thousands across America in trying to cope. In spite of the heavy brooding air of shock and loss, we also all powered through by burying ourselves in other work matters. That is, until there was this increasing muffle coming through our 8th Floor window, looking down on Broadway at the flood of people, facing Madison Square Park and the Flatiron building.
"What are they saying?" one colleague asked. "I think it's just random stuff. It seems pretty disorganized," another replied. I looked down, amazed at the slow but crowded march up Broadway. "I think they're going to Trump Tower," I added. One other remarked, "I don't see the point. They're not accomplishing anything by just protesting." "Gosh, there must have been at least a couple of thousand people that passed by our view in the past 5 minutes." Further comments flooded as at least 10 of us had our face and hands pressed against the double-paned glass, staring down at the crowd. "I'm going!" I exclaimed as I was grabbing my coat. "If I don't come back tomorrow, I've been gassed or jailed." I said it mockingly to get a laugh, but the thought of violent endings in other marches this election season did linger in my mind.
"What do I say" as I just merged into the packed crowd. I've never done this before. I just wanted to be out, walking and clearing my head. But there I was, just walking, and watching. Was I one of them?
The chants were sporadic. "Who's streets?!? Our streets!" "Ho Ho Hey Hey, Donald Trump is anti-gay!" variations of that… "Ho ho hey hey, Donald Trump should go away!" "My body, my choice!" "Not our President!" and… "Fuck Donald Trump!"
I tried to participate with a couple of chants, but I felt more self-conscious and stoic. I figured that walking in solidarity was the best I can do.
The march went up Broadway, steered towards 5th avenue up until the early 30s streets before it was diverted cross-town to 7th avenue and merged back on Broadway near Times Square before going back east side around 57th street, and towards Trump Tower.
Some walked for a couple of blocks and veered towards a different destination. The march started at least farther south of where I was. Maybe they were all like me. There were no paid people. There was no plot to start a revolution. For most, it just seemed that there were a whole bunch of people trying to get out their frustrations and finding solace in one another; people of all ages in support for each others races, genders, and religions.
[[marchers2]]
I walked ahead to at least 3 different clusters of marchers. Some were more quiet than others. Some were just carrying completely unrelated conversations about work or school. And some just more curious about what it's all about and maybe had nothing better to do. Many were slow-texting while walking. I found friends and couples holding hands in affection, bonding in a common cause.
As I passed Times Square, I looked up at the bright lights, walking right in the middle of the street, in between cars and taxis, and tourists that were taking pictures in their pop-journalistic tendencies of iReporters. Police officers were diverting traffic, as much as any other event. They were very professional, and actually rather cordial. At one point, there was an officer with a megaphone asking for the crowd to stop to some of the crosstown drivers can pass by. This was met with someone in front of me changing "Fuck the police!"…which was quickly met with me exclaiming "uh! I don't think so!" and others moving away from that guy immediately. Admittedly, New York's finest on that night, leaving me proud of our men in blue.
I never made it to the perimeter of Trump Tower, but it wasn't not by choice. The crowds were packed in tight to the point where you can walk no longer, somewhere about one to two city blocks away. But, we all saw Trump Tower in plain view hovering over all of its surrounding buildings. There was no organized changing, no staged leads on platforms, nothing. Just a whole bunch of disgruntled folks occasionally repeating the same chants on the way up, with some giving the middle finger to the dark 58-floor monolith in defiance. After about 30 minutes there, I squeezed myself to an open space to get a breath of fresh air. It was enough to do what we perhaps all need to do now…breathe. Three deep breaths later, I knew it was time to go home.
[[Marchers]]
As I walked towards Penn Station, I passed a bronze sculpture of the classic see, hear, and speak no evil monkeys. I shed a couple more tears as I stood in front, heavy reflecting. I wasn't going to be calcified and bronzed as our future events unfold.
I was going to speak up.
◼
---